WATCH: Julius Randle Furiously Marches Towards Refs After Late Call Denies Knicks a Win
Published 03/15/2021, 11:25 PM EDT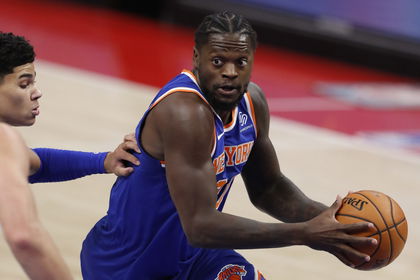 ---
---
The New York Knicks have become a changed team this season. Led by Julius Randle, they have been on a rise recently. But tonight, their momentum was cut short by their rivals, the Brooklyn Nets.
ADVERTISEMENT
Article continues below this ad
It was a close game, with the Nets winning by just five points. However, the Knicks will feel robbed and Randle certainly feels so too. As the game came to an end, Randle was furious with the referees, who had a contentious late call. With mere seconds left, the Knicks were down by three, and Randle was about to take a three-pointer.
As he tried to shoot, Kyrie Irving apparently touched the ball, but the ref didn't see it. So they called a turnover on Randle and ended all hopes of a Knicks win.
ADVERTISEMENT
Article continues below this ad
As the final buzzer of the game went off, Randle angrily marched towards the refs. Nets' Jeff Green was waiting to shake hands with the Knicks star, but Randle just brushed him off with his shoulder and ignored him. But the Knicks players managed to step in to stop Randle before things could get out of hand.
Julius Randle was not happy. 😳

— Hoop Central (@TheHoopCentral) March 16, 2021
Tough loss for the Knicks
After a contested first few minutes, the Knicks fell behind. The Nets had a five-point lead after the first quarter and refused to surrender it all game. The Knicks were down by 12 points at halftime, but they showed more fight in the second half of the game.
With his co-stars failing to play their part, Randle did his best to give the Knicks a chance. He had 33 points, 12 rebounds, and six assists, to end the game. He shot 13-27 from the field and 3-6 from three and kept them in the game.
Although RJ Barrett had 23 points, he shot just 6-14 from the field. Rookie Immanuel Quickley also had an off game, shooting just 6-19 which severely affected their offensive tempo.
ADVERTISEMENT
Article continues below this ad
Following their return from the All-Star break, the Knicks had a disaster loss to the Bucks but bounced back with a convincing win over the Thunder. Randle and Barrett demolished their opposition as the team cruised to a 22 point win. So they arrived into the Nets game with momentum on their side. However, unlike the Nets, they didn't have referees on their side.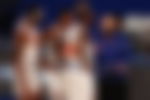 It will be a tough defeat to swallow, but the Knicks have to keep their chin up as they face another conference giant in the 76ers tomorrow.
ADVERTISEMENT
Article continues below this ad