WATCH: Lakers Receive Heroic Welcome at Los Angeles After Winning the NBA Championship
Published 10/13/2020, 8:00 AM EDT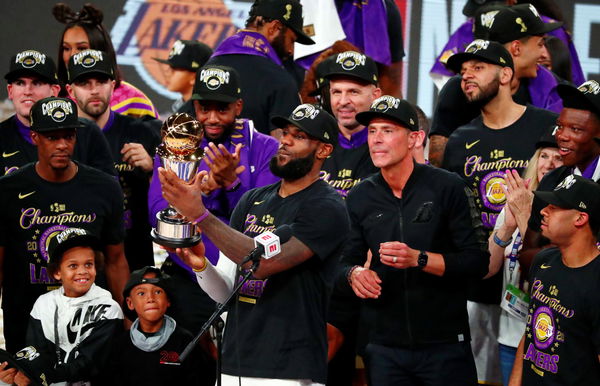 ---
---
The champions have returned home. After a prolonged season, the Los Angeles Lakers emerged as champions in the Orlando bubble. They returned to LA on Monday, bringing home the Larry O'Brien trophy.
ADVERTISEMENT
Article continues below this ad
As their plane arrived at LAX, the LAFD (Los Angeles Fire Department) gave them a water salute.
ADVERTISEMENT
Article continues below this ad
Once they got off the plane, the players were ambushed by media members and thousands of fans who came to welcome the champions. LeBron James walked in with the Finals MVP trophy in his hands, while Anthony Davis said, "This is even better than the championship, to be back!" Danny Green and Kyle Kuzma also expressed how it felt good to be back, after months in the bubble.
Lakers: Defying all expectations
During the off-season, hardly anyone predicted the Lakers to win it all. In ESPN's off-season survey, the Lakers received 0 votes to win the title, while the LA Clippers received 13. Even the Denver Nuggets, Utah Jazz, and Houston Rockets received one each, but none for the Lakers.
"I'm going to say the Clippers right now," an Eastern Conference scout said. "Certainly I'd understand why someone would say the Lakers, but I don't trust the Lakers to get anything right."
And look at how that went. The Lakers destroyed their opponents in the Western Conference to set up a date in the NBA Finals against another team who weren't fancied to reach this stage, the Miami Heat. Six games later, the Lakers walked away as the champions, ending a decade of title drought.
ADVERTISEMENT
Article continues below this ad
The whole team had players who were battling individual criticism. The critics didn't think that a 35-year old LeBron was championship quality. They doubted whether Dwight Howard could still contribute to an NBA team. And Rajon Rondo's ability was also questioned. But each of them proved their critics wrong and are now enjoying their championship victory.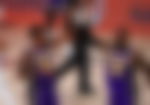 The Lakers will be hoping that they can return stronger next season and continue to be dominant.
ADVERTISEMENT
Article continues below this ad