WATCH: Lakers' Anthony Davis Messes Around With LeBron James While Standing Behind Him
Published 04/16/2021, 1:44 AM EDT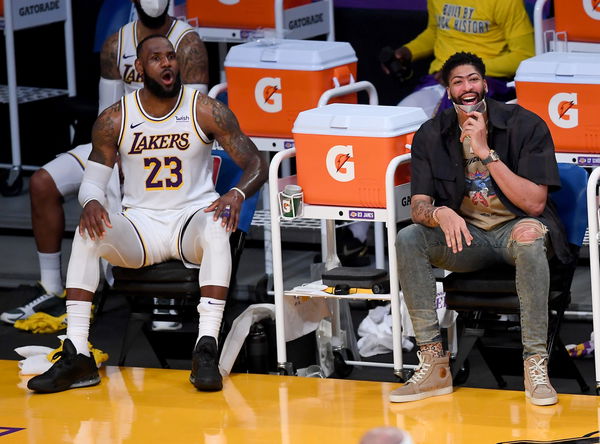 ---
---
The Los Angeles Lakers played another game without their star duo of Anthony Davis and LeBron James tonight. But not being on the court doesn't mean they won't be in the arena. They were present on the sidelines at the Staples Center, in the first game with fans in over a year.
ADVERTISEMENT
Article continues below this ad
Usually a clip of them celebrating or coaching from the sidelines goes viral after each game. But tonight was a much lighter one. Before the game began, LeBron was speaking to GM Rob Pelinka. Just as Pelinka left, AD came from behind to approach Bron. As Bron was staring at the jumbotron.
AD noticed he was doing that and stood behind him, making funny expressions and just messing with him. Some fans believe he was saying something to LeBron, in which the four-time MVP wasn't interested. But it also looked like he was hoping that the jumbotron caught them on camera so Bron could realize he's behind him.
ADVERTISEMENT
Article continues below this ad
This is just another example of how their relationship is. They have barely been teammates for over a season, but their bond is already so strong. This is also the reason Davis chose to commit to a long-term stay in LA. He wanted to play more with LeBron, while also being his successor.
Anthony Davis close to return; no news about LeBron James yet
Despite the loss, Lakers fans will be ecstatic following their injury updates. After being out since February, AD has finally been cleared for full practice. He may still be a game or two away from playing, but this is a huge relief for the Lakers.
ADVERTISEMENT
Article continues below this ad
"He was evaluated again upon the return from this trip, and he has been cleared for full, on-court activity," Vogel said. "Full practice, anything we want to do with him to begin his full ramp-up and return to play. All the court work he's been doing to this point has been to get him to be fully cleared to participate in full practice."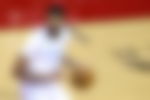 The Lakers have lacked an on-court leader in the absence of AD and Bron. So this will be a huge positive for them in the coming games. Although there is still no new update about LeBron's return, having AD back will definitely help them to improve their form.
ADVERTISEMENT
Article continues below this ad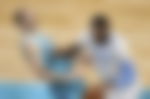 Trending Stories