WATCH: Bucks' Giannis Antetokounmpo Shows Off His Strength; Dunks On Three Spurs Defenders
Published 05/10/2021, 11:17 PM EDT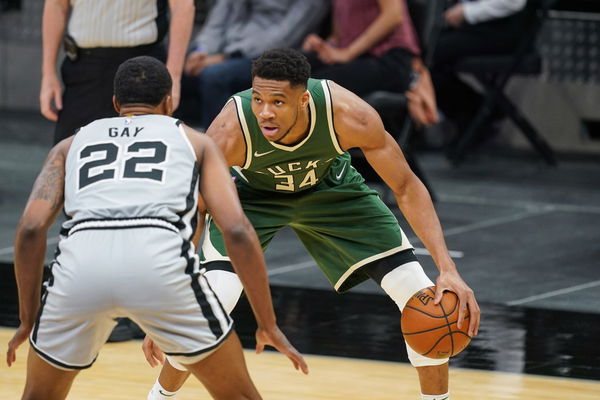 ---
---
When Greek star Giannis Antetokounmpo arrived in the league in 2014, he was a skinny player. His weight was just 190 lbs at that time, but since then, he has undergone a serious transformation. He has put on a lot of muscle weight and currently weighs 240 lbs. This has rightly earned him the nickname of the Greek Freak.
ADVERTISEMENT
Article continues below this ad
Tonight, against the San Antonio Spurs, Giannis lived up to this nickname. He is one of the strongest players in the league, and the Spurs defenders learned it the hard way. As the first half was coming to an end, he got the ball from Jrue Holiday near the three-point line.
With Jakob Poeltl defending him, he still drove inside and unleashed a powerful reaching dunk over Poeltl and two other defenders. One defender is usually never enough to stop Giannis and tonight, even three weren't enough. Another amazing detail about this highlight was that he dunked with his left hand, which is his weaker hand.
ADVERTISEMENT
Article continues below this ad
Giannis Antetokounmpo and the Bucks fail to make most of their chances
The Bucks had a horrific game against the Spurs tonight. With the Brooklyn Nets losing, the Bucks had a chance to overtake them and become the second seed.
In the last few seasons, the Bucks had taken pride in their defense, with Giannis also winning DPOY. But this season, despite the addition of another defensive stalwart in Jrue Holiday, they have been a lot weaker. Tonight, they conceded a season-high 146 points, and it was their worst defensive display.
ADVERTISEMENT
Article continues below this ad
Their three stars, Giannis, Holiday, and Khris Middleton shot over 60% each, but that was still not enough for the Bucks. They arrived in San Antonio on a five-game winning streak, which included two wins over the Nets. But that impressive run came to an end following a miserable defense.
The Bucks rank 21st in the league in points allowed per game, so this will be a reminder that they need to address these issues before the playoffs begin. Having the best offense isn't enough if they continue to leak points like this. If they don't fix this problem, they are likely to be handed another embarrassing playoff exit.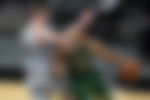 This loss also means that the Nets could hold on to the second seed. The Bucks will be doing their best to ascend now, since a first-round clash against the Heat is not something they would want.
ADVERTISEMENT
Article continues below this ad