WATCH: Magic Forward Aaron Gordon Puts Bucks' Giannis Antetokounmpo On a Memorable Poster
Published 01/11/2021, 9:58 PM EST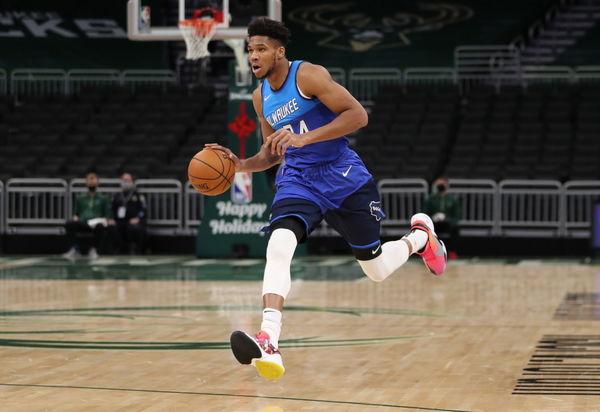 ---
---
Orlando Magic star Aaron Gordon is famous for his deadly dunks. He is a one-time dunk contest champion and finished as the runner-up last year. Tonight, he showed off his elite dunking ability as he put Bucks star Giannis Antetokounmpo on a mean poster.
ADVERTISEMENT
Article continues below this ad
Gordon beat Pat Connaughton with a side step, before charging into the paint. The two-time MVP and last season's DPOY planted himself in the paint, ready to draw a charge. But Gordon bulldozed through Giannis and gave him a poster to remember. The Bucks star fell flat on his back and looked stunned for a few seconds, before eventually getting up.
Gordon's flashy dunks have earned him his praises but when he wants, he can power through the paint defense like he did tonight.
ADVERTISEMENT
Article continues below this ad
Giannis Antetokounmpo gets postered but also gets the win
When Gordon dunked, he brought the Magic to just two points behind the Bucks. But after that, the Bucks went on a 22-2 run and took the Magic out of the game. It was a team effort and didn't require Giannis or Khris Middleton to carry the offense. The two attempted a combined six shots out of the 26 taken by the team in the fourth quarter.
ADVERTISEMENT
Article continues below this ad
Giannis played just 27 minutes and took just 16 shots all game. He finished with 22 points, six rebounds, two blocks, and most importantly, the win. Middleton had a similar game, with 20 points and 10 rebounds.
They had a surprise performer in Bobby Portis, who was in red-hot shooting form. He went 9-13 from the field, including 2-3 from three, and finished with 20 points. Bryn Forbes also stepped up, scoring 14 points, while going 3-4 from deep. These two cameos helped the Bucks since the new arrival Jrue Holiday was struggling badly. He went 3-10 from the field, and couldn't make a single three-pointer all night.
ADVERTISEMENT
Article continues below this ad
With this win, the Bucks have improved their road record to 2-3. They struggled in the start and lost to the Knicks, Heat, and the Celtics while playing away from home. But now they are playing like a contending team and are building momentum slowly. Giannis has won every individual award he could, so now his aim will be to get hold of the Larry O'Brien championship trophy.