WATCH: Shaq and Barkley Joke Around with Luka Doncic Post Win Against Nuggets
Published 01/08/2021, 5:00 AM EST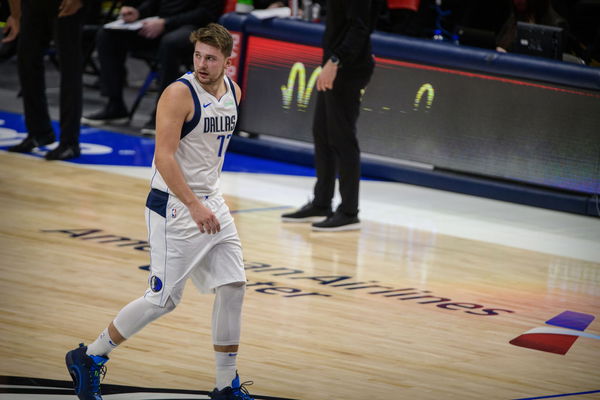 ---
---
The Dallas Mavericks managed another win in the absence of star Kristaps Porzingis tonight. Luka Doncic was back to his best and led the team to an overtime win over the Nuggets.
ADVERTISEMENT
Article continues below this ad
During the post-game press conference with NBA on TNT, Hall of Famers Charles Barkley and Shaquille O'Neal were messing around with the Slovenian superstar. Barkley asked the 21-year-old about a 1982 movie about which Doncic was confused and ended up smiling awkwardly. Later, Shaq tried to say goodbye to him in Slovenian but struggled, and they made him repeat the words with the correct pronunciation.
ADVERTISEMENT
Article continues below this ad
Perhaps the Mavericks' win gave Luka enough patience to laugh through the awkward end to the conversation. Doncic had a phenomenal game tonight and was one rebound away from a triple-double. He had 38 points, nine rebounds, and 13 assists. He also shot 13-22 from the field and 10-15 from the charity stripe.
How long does Luka Doncic have to carry the Mavericks alone?
Since suffering a torn meniscus during the Mavericks first-round playoff encounter against the Clippers, Kristaps Porzingis hasn't returned. It has been almost five months now, and he could make a return soon. "In terms of a timetable, we're not talking weeks," coach Rick Carlisle said. "We're talking sometime in the next week, week-and-a-half, if all things continue to go well."
The Latvian is slowly working on his return. During his conversation with NBA on TNT, Doncic mentioned that Porzingis is currently playing 3v3 in practice. He said that Porzingis looked "great," and this will be a good sign for the Mavericks.
ADVERTISEMENT
Article continues below this ad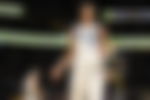 In Kristaps' absence, the team has started the season 4-4. This includes two unexpected losses to the Bulls and the Hornets. The Mavericks are surprisingly doing well on defense without him, but they are missing his shooting. They rank 25th in the league when it comes to three-point shooting and have been struggling since the start.
Three of their top four players with the most three-point attempts are averaging below 32% from deep. So the Mavericks will be hoping that Porzingis can return soon and help them out on offense especially. Last season, he and Doncic led the Mavericks to the best offense in NBA history, and they will be aiming to repeat those performances this time as well.
ADVERTISEMENT
Article continues below this ad