WATCH: Wizards' Russell Westbrook Signs Jersey For Black Panther Star Michael B. Jordan
Published 03/21/2021, 11:28 PM EDT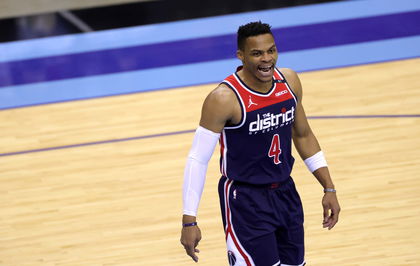 ---
---
Not every day does a player think that their day will end with signing a jersey for Michael Jordan. But today was just that day for Washington Wizards star Russell Westbrook.
ADVERTISEMENT
Article continues below this ad
After their game against the Brooklyn Nets, Russ took off his jersey and approached the courtside seats. He signed his jersey and gave it to Hollywood actor Michael B. Jordan. While it wasn't the legendary six-time NBA champion Jordan, but the Black Panther star is also a big name currently. In fact, the actor has added the initial B to his name to avoid such confusion.
ADVERTISEMENT
Article continues below this ad
Jordan has previously revealed that he is a Lakers fan. But his appreciation and friendship with Westbrook could be because they both hail from California.
Despite the loss, Westbrook had a solid game. He had yet another triple-double, finishing with 29 points, 13 rebounds, and 13 assists. He also shot 50% from the field, but his poor three-point shooting and eight turnovers ended up being costly for the Wizards.
Can Russell Westbrook reignite playoff hopes for the Wizards?
After Westbrook's arrival in Washington, the Wizards were touted to be a strong playoff team. But they are miles away from such predictions. Tonight's loss was their 26th of the season and that sees them drop to the 13th position in the Eastern Conference.
Just a month back, the Wizards went on a superb run, stunning teams like the Lakers, Clippers, and the Nuggets. They were just five wins away from a .500 record. Since that run ended, they have won just two games. And what is more surprising, is that those two wins came against two of the best teams in the league, the Clippers and the Jazz.
ADVERTISEMENT
Article continues below this ad
They have had multiple upset wins, but they have been unable to put away winnable games. They have an 11-14 record against teams who are .500 or above, and a 4-12 record against teams below .500. That shows that there is potential to be a better team, and the Wizards only have themselves to blame for their inconsistent performances.
Led by Bradley Beal and Russell Westbrook, the team will not give up yet. They still have a chance to make it to the play-in tournament, and they should do their best to fight for those spots.
ADVERTISEMENT
Article continues below this ad