'Weird to See': Kevin Love Opens Up on LeBron James vs Kyrie Irving's Potential NBA Finals Matchup
Published 04/21/2021, 9:00 AM EDT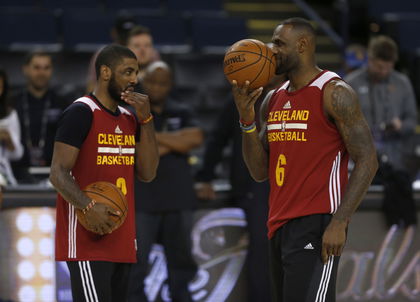 ---
---
The Los Angeles Lakers started the 2020-21 season as defending champions and also the favorites to win it again. But following the James Harden trade, the Brooklyn Nets rose to the top. Since then, fans have been anticipating a LeBron James vs Kyrie Irving Finals battle.
ADVERTISEMENT
Article continues below this ad
After being teammates for three seasons and also winning a title together, LeBron facing Kyrie would be epic. They had a great relationship at the beginning. But it later soured after Kyrie was upset he didn't get treated the same. Watching this unfold on the team was five-time All-Star Kevin Love, who is eager to see his former teammates go at each other.
"It would definitely be interesting to see," Love said. "But I'll tell you what: Get your popcorn ready, because that would be one for the ages there. If everybody is healthy on both sides, that would be a really amazing Finals with some guys that are first-ballot Hall of Famers."
ADVERTISEMENT
Article continues below this ad
He admitted it would be weird to see them play against each other in the Finals, but it would still be enjoyable. "I think we'd all enjoy seeing that in a big way because it would just be beautiful basketball," Love said.
How likely is a LeBron James vs Kyrie Irving Finals matchup?
While the Lakers and the Nets may have started as favorites, there is definitely strong opposition eager to prevent them from going all the way.
The Lakers are currently fifth in the Western Conference. The Jazz, Suns, Clippers, and Nuggets are all ahead of them. But that is also because of the absence of both Anthony Davis and LeBron, which has affected their record. All four of those teams look dangerous, but the Clippers seem like the toughest opposition for them. So the Lakers will have a mountain to climb if they are to reach the Finals.
ADVERTISEMENT
Article continues below this ad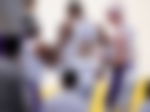 The Nets are still the favorites to make it out of the East. But they also have some arduous task ahead of them. The Bucks and the 76ers are both led by MVP candidates in Giannis Antetokounmpo and Joel Embiid, respectively. Both of those teams are in revenge mode, trying to make up for their recent postseason struggles. So the Nets will have to be careful.
This has the potential to be one of the best Finals in recent memory and fans will be eager to see LeBron, AD, Andre Drummond take on Kyrie, James Harden and Kevin Durant.
ADVERTISEMENT
Article continues below this ad