When LeBron James Admitted Michael Jordan Was The GOAT on His Birthday
Published 02/17/2021, 1:22 AM EST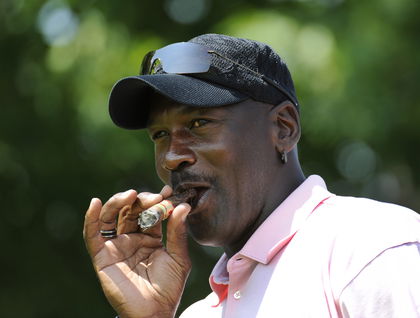 ---
---
Six-time NBA champion, Michael Jordan, celebrates his 58th birthday today. Such occasions have always got the best (or worst) out of fans, and a few fans on Twitter dug up an iconic tweet from LeBron James when he wished Jordan on his birthday in 2012.
ADVERTISEMENT
Article continues below this ad
In the birthday wish tweet, LeBron called Jordan his idol and ended the tweet by calling him the GOAT. Most of the replies are current-day tweets from LeBron fans asking him to delete this tweet since they feel it is embarrassing. LeBron and Jordan are at the fore of all GOAT debates, and this tweet shows what LeBron feels on the matter.
Happy B-day to the person I idolized and wanna to be just like as a kid playing the game of basketball Michael Jordan. #TheG.O.A.T.

— LeBron James (@KingJames) February 17, 2012
ADVERTISEMENT
Article continues below this ad
But one has to remember that at the time of that tweet, LeBron was 27 and had a 0-2 Finals record. That is nowhere near GOAT numbers. It would have been absurd for any fan back then to say LeBron was better than Jordan.
Will the LeBron James vs Michael Jordan GOAT debate ever end?
Since that tweet, LeBron has now won four rings, has a total of 10 NBA Finals appearances, and four MVPs. Those are insane numbers, but they still aren't enough to convince most fans that he is greater than Jordan.
The argument can go on for days, but as Jordan rightfully said a few years ago, calling someone the GOAT is just disrespectful to all the other great players who have played the game. LeBron still has a few years left in his NBA career, so there is a chance that he can rightfully claim that title. But he still has a long way to go for it. The competition for him is only getting tougher, and he has a lot to do before he can be called the GOAT by most of the fans.
58 years of greatness for Jordan
ADVERTISEMENT
Article continues below this ad
It has been 18 years since Jordan's final retirement, but his endless achievements are still on every NBA fan's lips. His impeccable Finals record, his five MVP awards, and his ten scoring titles are just a reminder of his greatness. Not only did MJ rack up the accolades, but he also revolutionized the game. Very few have had an impact as he did during his playing career.
ADVERTISEMENT
Article continues below this ad