'You Super Nice': LeBron James Gives Credit to Blazers' CJ McCollum Following All-Star Snubs
Published 03/27/2021, 2:14 AM EDT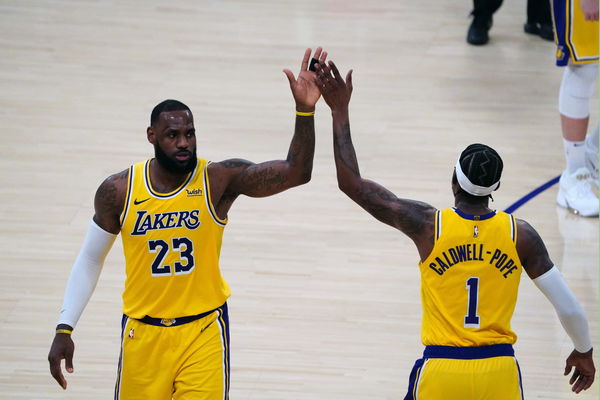 ---
---
The NBA All-Star voting has led to multiple snubs over the years. Many players get dejected when their efforts aren't recognized by fans, who ultimately decide the results. However, who needs approval from fans when you have LeBron James himself supporting you?
ADVERTISEMENT
Article continues below this ad
After their win over the Orlando Magic, Portland Trail Blazers star CJ McCollum revealed what he feels about not making the ASG yet. He said, "I don't need validation from outsiders… I know I'm nice."
He is definitely not wrong when he says that. Averaging 24.3 points per game this season, McCollum has earned the right to praise himself. His peers will know how much of a difference he provides on the court. LeBron also knows that. And he didn't shy away from giving McCollum credit, while saying, "You ain't nice… You super nice" to him on his Instagram.
ADVERTISEMENT
Article continues below this ad
If one of the greatest players of all-time is praising him, McCollum will definitely not have a problem with not getting validation from fans. LeBron knows more about the game than almost every fan, so his recognition will matter a lot to anyone.
When CJ McCollum poked fun at LeBron James for missing a logo three
Last month, the Lakers were facing the Timberwolves at the Target Center. As the third quarter was about to end, LeBron attempted a three-pointer from the logo. He often attempts such shots and has been very successful as well. But unfortunately, he missed that shot. And he wasn't spared for it on social media.
A lot of fans made fun of him for missing the shot, and among them was McCollum, who joined in the fun. He retweeted "Logo LeBron" and laughing emojis along with the video of his miss. LeBron is an easy target for fans to make fun of, but not often do you see his peers doing it.
ADVERTISEMENT
Article continues below this ad
Later he spoke about how why he has no regrets for that tweet. He explained how they have a close relationship and that's why they are able to make fun of each other. "I know Bron so it's different," McCollum said. "These are all things that I would say to him because I've known him since I was like 13 years old. It's not like I'm hatin."
They will next face off against each other on May 7, when the Lakers visit the Moda Center. LeBron will be keen to get his revenge then, and maybe also hit a logo shot or two.
ADVERTISEMENT
Article continues below this ad