"Best Player in the League": Rockets' Guard Believes James Harden Is the Key To A Championship
Published 08/17/2020, 1:07 PM EDT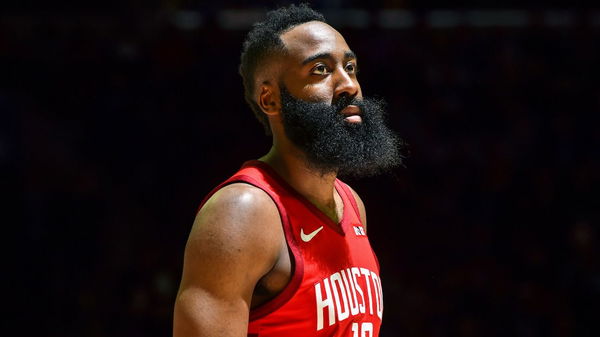 ---
---
James Harden and Houston Rockets have faced a lot of pain in the playoffs. Despite being one of the most successful teams in the last 5-seasons, the team has not made it to the NBA Finals. They have had 50+ wins in all but two of their last seven regular-season campaigns. They were eliminated by Portland in the first round in 2014, before losing consecutive years to the Golden State Warriors. The Rockets also lost in 2017 to the San Antonio Spurs and have followed it with another pair of losses to the Warriors.
ADVERTISEMENT
Article continues below this ad
Houston Rockets guard Austin Rivers believes that this may be the year for them. The key reason for that is MVP candidate James Harden.
"When you have a player like James, you always have a chance. That's like taking the greatest player or the best player on any of the top teams. Milwaukee with Giannis (Antetokounmpo) — it feels like they have a chance. The Lakers with LeBron (James). They have a chance. Portland with Damian (Lillard). They have a chance. We have James. We feel like we have a chance."
ADVERTISEMENT
Article continues below this ad
Rivers also says that Harden is arguably the best player in the league right now.
"He's done so much, and he's always done so much. I just view it as James being James at this point. He's arguably the best player in the league. A guy like that, they just keep going, and I think the smart players follow. That's what we're trying to do now."
James Harden officially leads the @NBA in steals for the 2019-2020 season.

He has now lead the league in points, assists, and steals throughout his career.

— Roosh (@RooshWilliams) August 10, 2020
Houston Rockets and James Harden
ADVERTISEMENT
Article continues below this ad
Harden isn't a new addition to the Rockets. Matter of fact, in every playoff loss we listed, Harden was the leader for the Rockets. Many times he didn't have the right team around him. But many times he didn't answer the call to lead the team to a win.
Houston has failed in high-pressure playoff situations before, but there are no Golden State Warriors to eliminate them this year. This is one of the most open Finals races in a long time. The Rockets have doubled down with James Harden, creating a fast-paced three-point shooting offense to suit his play style.
Harden has never had a player like former MVP Russell Westbrook as his running mate. Austin Rivers may be justified in feeling that this year Harden will outshine the rest.
ADVERTISEMENT
Article continues below this ad