"Best Power Forward": Clippers' Paul George Reveals How a Star Player Was About to Join Pacers
Published 06/23/2020, 3:43 PM EDT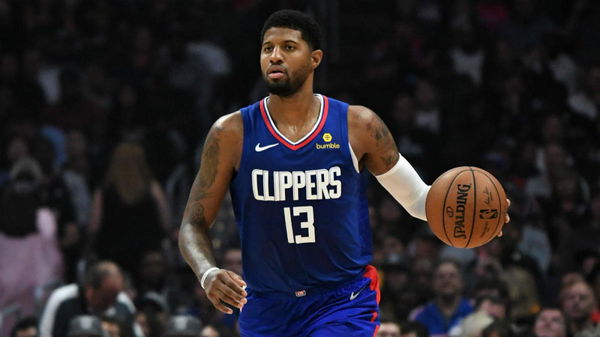 ---
---
When Paul George was at Indiana Pacers, he had actually found a star player ready to join him, which would have made the team stronger.
ADVERTISEMENT
Article continues below this ad
When George was into his seventh year with the Pacers, he said, speaking to Quentin Richardson and Darius Miles of the Knuckleheads podcast, that he had a star power forward wanting to team up with him.
"I ain't gon' say the names because I'm going to keep their business private, I'ma just say it like this. I had at the time, the best power forward saying he wanted to come to Indy and team up with me," he said.
ADVERTISEMENT
Article continues below this ad
But the Pacers couldn't afford another star man on their side.
"They're like, 'we're a mid-major, we're a small market, like, we can't do it, we're a small market, we can't afford that.' I'm like the best power forward wants to come to play here, like, y'all can't make that work? They didn't want to do it," George said.
George wasn't happy that the Pacers weren't ready to sign the player. George would have had his inclination towards going for his first championship. This made George doubt the Pacers' ambitions, and he eventually made a move that year.
"So I'm like, now I'm pissed, because it's like, what am I doing here? You know what I mean? They don't want to win. I've got the best power forward that wants to come play here. Not everybody chooses Indy to come and play here," he said.
Paul George has teamed up with Kawhi Leonard at Los Angeles Clippers
As George joined Oklahoma City Thunder in 2017, Indiana Pacers received Victor Oladipo and Domantas Sabonis as a part of the trade deal. PG-13 played alongside Russell Westbrook in Oklahoma for a couple of years.
ADVERTISEMENT
Article continues below this ad
Last summer, Los Angeles Clippers made two big signings to make their team contend for the Championship. One of them was Paul George, as the Clippers gave away  Shai Gilgeous-Alexander, Danilo Gallinari, five first-round draft picks, and the rights to swap two other first-round picks in exchange for George.
Another star man to join the Clippers was Kawhi Leonard- the kind of forward that George wanted to play with.
ADVERTISEMENT
Article continues below this ad