Celtics Forward Matches NBA Legends Bill Russell and Larry Bird in a Crazy Franchise Record
Published 09/09/2020, 11:23 PM EDT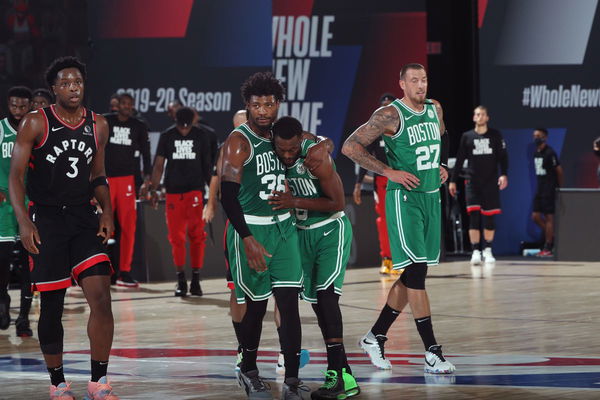 ---
---
The Boston Celtics and the Toronto Raptors played one of the most arresting matches of the NBA Playoffs 2020. It took two OTs to find the winner of the game that was never really dominated by any of the two teams. However, the Raptors were the last to smile.
ADVERTISEMENT
Article continues below this ad
Out of many stars who shined in this gripping outing, Jaylen Brown remained the talk of the hour. He is known for his extraordinary dunking ability. In Game 5, he dunked a poster on Raptors' OG Anunoby, which received a significant amount of traction. And in Game 6, he once again had some great memories to take back.
Jaylen Brown matches a franchise record!
ADVERTISEMENT
Article continues below this ad
Jaylen scored 31 points, 16 rebounds, 2 assists, and 2 steals in the game. His FG% and 3P% of 36.7 and 30.8 showed some downside, but his FTs made up for them. He scored 5 free throws with a 100% accuracy. Two of those throws came at a crucial moment that eventually forced the game into the OT.
Meanwhile, his double-double got him in the franchise history books among the greats.
Jaylen Brown had the first 30 point, 15 rebound playoff game by a Celtic since Robert Parish in '87, per @Sportradar. McHale, Bird, Cowens and Russell are the only players to have hit those marks in franchise history.

— Jared Weiss (@JaredWeissNBA) September 10, 2020
Robert Parish was known for his longevity in the NBA as he played for a crazy 21 seasons, something unheard of in today's scenario. He was known for clutch rebounding and hence Jaylen's performance to match him is a huge deal. He now stands next to not just the franchise greats, but league greats in the likes of Kevin McHale, Larry Bird, Dave Cowens, and Bill Russell. 
The Celtics almost had the game!
ADVERTISEMENT
Article continues below this ad
Jaylen Brown did a decent job guarding against Pascal Siakam. Jayson Tatum also helped him big time as he added another 29 points, 14 rebounds, and 9 assists. He too could have had that '30-15' figure or may be closed with a triple-double but he fell short. Both these men clocked 51 minutes in the game.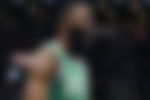 Jayson Tatum played absolutely amazing in the second OT when he hit a three-pointer from the downtown to make the score 122-123 with the Celtics trailing by just one point. Next, Marcus Smart (who scored a triple-double) had a great opportunity to score a match-winning three, but he missed and that's how things ended for the Celtics.
ADVERTISEMENT
Article continues below this ad
The two teams will now play a knockout match when they meet next on Friday.