"I Just Told Myself to Go and Dunk It": When a Celtics Rookie Slammed a Sensational Dunk Over Lebron James
Published 05/27/2020, 11:18 AM EDT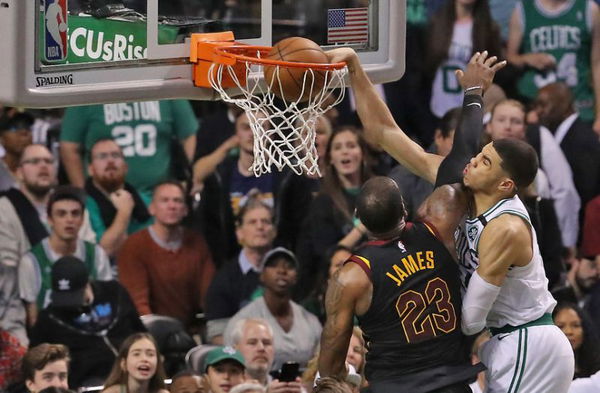 Being a rookie in the NBA is when most league players try to perform in such a way that they attract validation from their seniors. While it may take up to 3-4 years for some, others are lucky enough to get their moment sooner. Jayson Tatum became part of the latter, as he received a warm welcome into the league, mostly owing to his fire dunk over veteran LeBron James.
When LeBron James got a rookie in his face
Two years ago today, Boston Celtics' Jayson Tatum, who was in his rookie year, had an incredible moment on the court. Apparently, when he went in for the dunk, he wasn't expecting to face Cleveland Cavaliers' LeBron James. Yet, the legend came, trying to defend the ball, but in vain.
ADVERTISEMENT
Article continues below this ad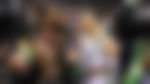 Recalling the incident as if it happened yesterday, Tatum recently revealed details on the Bill Simmons podcast, 'The Bill Simmons Report'. The 22-year-old said that he observed the team attempted too many jump shots. Hence, he went in by himself.
"I remember I just told myself 'go to the rim and try and dunk it,'" Tatum said. He then revealed that LeBron came up surprisingly. He said, "I obviously didn't know that he was going to be down there, but I remember when I turned the corner, I saw him, and I was like, 'Uh oh.'"
The young power forward revealed that everything happened in the blink of an eye. According to Tatum, he doesn't even remember jumping for the dunk!
"I just tried to dunk it as quick as possible, 'coz obviously he's a great shot-blocker," Jayson said. "It just happened so fast, and then I chest-bumped him."
"When I turned the corner, I saw him. And I was like 'OH OH.'"

Jayson Tatum on the time he posterized LeBron James in the playoffs.

(Via #BSPodcast, @Ringer)

— Ballislife.com (@Ballislife) May 27, 2020
ADVERTISEMENT
Article continues below this ad
This was no ordinary chest bump. By the looks of it, it seemed like Tatum was trying to rub the dunk in LeBron's face. However, the now Los Angeles Lakers star took nothing out on the rookie. Instead, once the matchup ended in the Cavs victory, King James leaned in and whispered to Tatum that he did well.
Tatum believes that LeBron's little compliment was like a blessing for him.
We must say Jayson, when you get King James' validation, you know you're going to do well in the league. Well, all we can do is wait and watch.
ADVERTISEMENT
Article continues below this ad