"I'm Saving My Right Hand for the Lakers.": When Larry Bird Flexed by Playing an Entire Game With Just His Left Hand
Published 05/12/2020, 10:54 AM EDT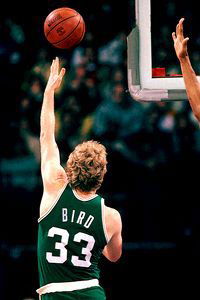 ---
---
We're aware of Michael Jordan's competitiveness in anything he did; we know Kobe Bryant's never-back-down mentality. We also know LeBron James' picker-upper spirit. All these stars strived to be on top and stay there in their own ways. However, we seem to have forgotten the legend before any of these. The one who set the level of pettiness that even Jordan cannot beat. We take a trip back to the day when Larry Bird played the entire game with his left hand, mostly for show.
ADVERTISEMENT
Article continues below this ad
When Larry was a petty little Bird
ADVERTISEMENT
Article continues below this ad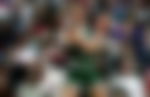 It was the day of love in 1986 – Valentine's Day – and the Portland Trail Blazers were about to get showered with all the love Larry Bird had. Even though Bird went on to have better scores and stats after that matchup, it marks a very important game. It was the one where Larry Bird, wait for it, played the entire game with his left hand!
And to put this achievement into perspective – he was a dominantly right-handed player. Why did he do that you ask? Well, apparently, the great Larry Bird wanted to flex.
"At the end of one of the trips, he had accomplished every goal," his Celtics teammate Bill Walton later recalled.
"And Larry told all of us players and the media too, we were all standing around waiting to leave, he said, 'Tomorrow night's the last game of the trip, I'm going to play this one left-handed, at least through three quarters.'"
And he did. Along with a 47-point triple-double, he finished the night with 14 rebounds and 11 assists, as Boston defeated the Trail Blazers in overtime.
Was Bird actually saving his right hand for the Lakers?
It seems, however, that along with showing off, Bird wanted to save his right hand for the upcoming matchup against the Los Angeles Lakers. He was very sure that he could lead the Celtics to victory over the Trail Blazers without engaging his right hand so it could rest up.
ADVERTISEMENT
Article continues below this ad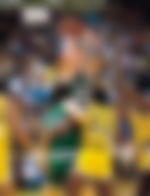 He simply told The Boston Globe's Dan Shaughnessy afterward in an article titled, "Just call him lefty Bird. I'm saving my right hand for the Lakers."
ADVERTISEMENT
Article continues below this ad
In the 80s, the Celtics and Lakers had built up a solid rivalry. They played against each other in two NBA Finals' up till that point, with each winning one of the series. The Lakers were defending the championship title in 1986. Hence, Bird wanted revenge.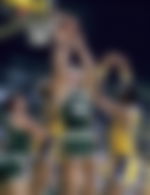 The Celtics went on to beat the Lakers two days later, 105-99. Bird unleashed the wrath of his right hand and recorded 22 points and 18 rebounds. He led the Celtics to another NBA championship later that season, dethroning the Lakers, just like he wanted.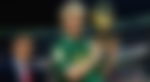 The legend's career achievements include three championships and 12 All-Star appearances. He is one of the most decorated NBA players ever. Even though he has many other feathers in his hat, the left-handed game is one of his most impressive accomplishments.