Jayson Tatum Joins Los Angeles Lakers' Star LeBron James For Unique NBA Playoff Achievement
Published 09/19/2020, 11:32 PM EDT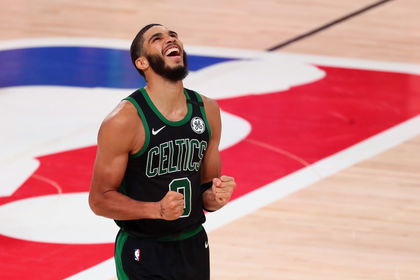 ---
---
Jayson Tatum has been pegged as a young star from his rookie year. Everyone became sure of his talent when he dunked on LeBron James in the Eastern Conference Finals. Now, he's playing in those same finals again against LeBron's old team in Miami.
ADVERTISEMENT
Article continues below this ad
Tatum scored 25 points, pulled 14 rebounds, and dished out 8 assists in Boston's Game 3 win over the Miami Heat. By putting these numbers up, Tatum joins the aforementioned LeBron James on an exclusive stat list which sees just them on it.
ADVERTISEMENT
Article continues below this ad
Tatum and LeBron are the only two players to have four games with a 25/10/5 statline. However, Tatum has done it over 42 games in his career, while LeBron did it 20 games. Nonetheless, Tatum's inclusion alongside LeBron is a massive achievement.
Jayson Tatum getting ready to take the crown?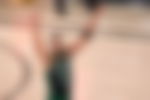 Jayson Tatum and his ascension is no surprise. He has been one of the primary offensive options on this Celtics team ever since he was drafted with the third pick in 2017. Even though he stuttered last season, he has evolved into a genuine generational talent. Out of all the young players that are looking to wrest the crown from King James, Tatum is one of the front-runners.
ADVERTISEMENT
Article continues below this ad
He has had his battles with LeBron, where he held his own against the certified Hall of Famer. He has a play-style reminiscent of Bron, minus the passing but with a better three-point shot. Considering he is going to battle with Giannis Antetokounmpo and Luka Doncic for the next generation of basketball, his ascension to leBron levels of greatness might be challenged.
However, it is important to recognize the growth Tatum is showing. He is the leader on a team in the conference finals in his third season. LeBron did something similar with Cleveland when he led them to the Finals in 2007.
ADVERTISEMENT
Article continues below this ad
While obviously Tatum has a much better team around him, he is showing the Bonafide talent that could lead him to greatness. It all starts with racking up these smaller accomplishments before the big ones come your way.