Boston Celtics' Kemba Walker Not Fazed by Gordon Hayward Joining Charlotte Hornets
Published 12/03/2020, 1:27 AM EST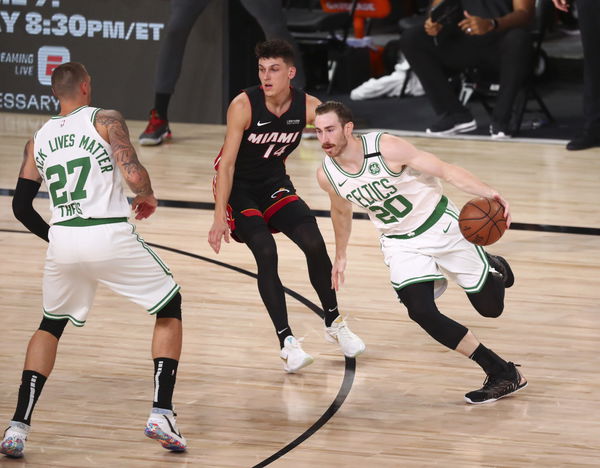 ---
---
Gordon Hayward made a surprising decision this off-season. The former All-Star opted out of a player option with the Boston Celtics, to go sign with the Charlotte Hornets in free agency. The decision came as a surprise, as Hayward was expected to stay with the Celtics.
ADVERTISEMENT
Article continues below this ad
But Hayward chose to cash in on his value, signing a 4 year $120 million contract with the Hornets. For Hayward, this makes him part of an exciting tandem with Charlotte. He joins rookie LaMelo Ball as the shining centerpieces of the Hornets team.
In fact, the Hornets wanted him so badly that Michael Jordan personally contacted Hayward to convince him to come to Charlotte Hornets. However, Jordan has faced criticism for 'overpaying' for Hayward, a player many think has left his best days behind him.
ADVERTISEMENT
Article continues below this ad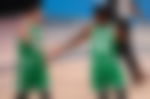 However, the truth is that Charlotte has to 'overpay' for good players. Being a small-market team, with a less than attractive appeal to the players, they must entice them with financial benefits. Hayward was clearly looking for a payday, and the Hornets had no other choice but to pay up for Hayward. Without the financial perks, there is very little that entices a player to come to a small market team.
The Hayward's departure is a scathing indictment for the Celtics. Hayward is the third major player in the past few years who chose to leave the Celtics in free agency after Al Horford and Kyrie Irving left the team in search of better opportunities.
Walker talks about Gordon Hayward leaving
ADVERTISEMENT
Article continues below this ad
Celtics point guard Kemba Walker spoke to the press about the departure of Hayward to his former team Charlotte, and whether he felt bad that Hayward got the contract he sought. Walker dismissed any rumors of disappointment. He said, "Nah…I could care less. Man, I'm in the place I'm supposed to be. This is all god's work. I can't control none of that stuff. All I can control…Gordon – That's my brother. I'm happy for him." 
Walker joined the Celtics because he wanted to be there. He said, "Whatever makes somebody happy in this league, that's what it's about. It's not about anybody else, man. I made my choice to come here to Boston because this is where I wanted to be. Because it makes me happy." 
However, Walker also spoke about Charlotte, and how Hayward would have a good time in the city. He said, "And G, he's happy, I'm sure he's happy. He's going to have a great time in Charlotte, it's a great place to be. Great city, great fans, they love basketball. They're going to love Gordon, he's a great player. He's going to bring joy to that organization. I'm happy for Jordan, I mean Gordan. Jordan too (laughs)!"
ADVERTISEMENT
Article continues below this ad
It will be interesting to see how well Hayward does with the Charlotte Hornets. He takes the court in Charlotte when the new NBA season begins on December 22, 2020.