Boston Celtics Star Marcus Smart Gives a Hard Hitting Statement Concerning Coronavirus
Published 03/21/2020, 7:15 AM CDT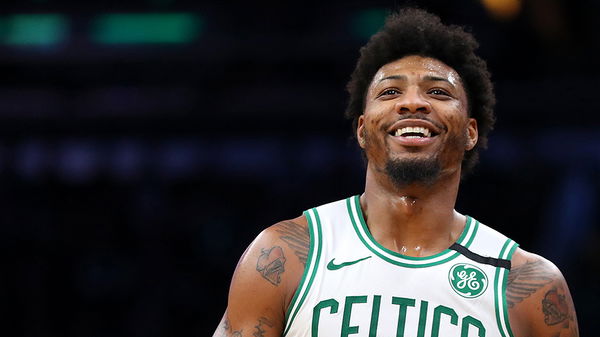 ---
---
Boston Celtics' Marcus Smart was the latest NBA player to test Coronavirus positive. He was quick to share that he has been on 'self-quarantine' for days and has shown no symptoms. The player asked people to regularly sanitize their hands and do everything possible to stop the virus.
ADVERTISEMENT
Article continues below this ad
I've had no symptoms and I feel great. But the younger generation in our country MUST self distance. This is not a joke. Not doing so is selfish. Together we can beat this, but we must beat it together by being apart for a short while. Much love!!

— marcus smart (@smart_MS3) March 19, 2020
ADVERTISEMENT
Article continues below this ad
Reportedly, Utah Jazz's Rudy Gobert was the first player in NBA to test positive for Coronavirus. And he certainly was not the last. Due to that first case, the NBA is now suspended for an indefinite period. With all NBA players and staff in quarantine, it is looking pretty uncertain for NBA to resume its season.
Marcus Smart, in a recent interview with CNN's Chris Cuomo, spoke about the gravity of the issue. He told young people to get serious about the situation. The player also described how he felt when he saw the result of the test.
"I found out yesterday evening sometime. And for me, it was just like a surprise, you know, because like I said, I feel fine. I haven't had any symptoms," Smart said. "So for me, like when they told me I had it, I was just like, oh, wow. You know, and it definitely really makes you alert to what's going on. In the situation".
Marcus Smart further echoed his words from the announcement about the 'self-quarantine' period.
"I've actually been taking isolation; the quarantine very, very seriously. I've been quarantined for a while now. Ever since we got back from our road trip and decided to get the team tested. I have been quarantined ever since. Doing everything I'm supposed to. Washing my hands. Germ-x. Everything".
"Take it seriously": Marcus Smart of Boston Celtics
Lastly, Smart also told how an athlete like him who is 26 years old can carry the virus to his teammates, family and other people around him without even knowing. He again asserted how he was fine and was still coronavirus positive. So by isolating himself from other people he has stopped the virus from spreading to others. He asked people around his age to get serious about coronavirus and practice mandatory self-isolation.
  "I advise, especially around my generation, I'm 26. Take it seriously".
ADVERTISEMENT
Article continues below this ad
Boston Celtics' Marcus Smart, who tested positive for the coronavirus, is calling on young people to take the virus "seriously."

"Be alert to what's going on and take the precautions to not only protect yourself. By protecting yourself, you protect others," he says. pic.twitter.com/DrXvmWKd1v

— Cuomo Prime Time (@CuomoPrimeTime) March 21, 2020
Till now, 14 individuals have been tested positive for coronavirus in the NBA. In which 10 of them are players and 4 are staff members. The list includes Utah Jazz's Rudy Gobert and Denvon Mitchell. Pistons' Christian Wood, one member of Nugget', 3 members from 76ers and 2 Lakers' players. Later Kevin Durant and three other Brooklyn Nets players with Boston Celtics' Marcus Smart also joined the list.
ADVERTISEMENT
Article continues below this ad