Watch the Heartwarming Video of Jayson Tatum Reuniting With His Son After Months
Published 09/15/2020, 4:53 PM EDT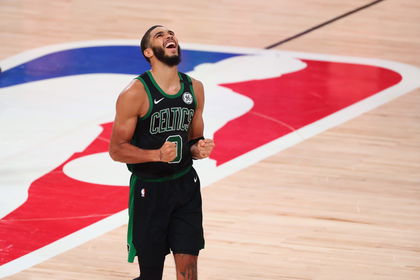 ---
---
The Boston Celtics will appear in the ECF for the third time in the last four years. This year is special for the team as they overcame the reigning champion Toronto Raptors in the ECSF. The series extended to seven games, but Jayson Tatum carried the team on his back and led the team like a veteran.
ADVERTISEMENT
Article continues below this ad
Tatum earned his reward for his second-round heroics as he is reunited with his son, Deuce, in almost two months. Following the five-month hiatus, the league's biggest concern was ensuring the safety of players and staff. And it's safe to say they took care of that department pretty well.
Initially, players weren't allowed to bring any family members to the Orlando Bubble. However, as the Playoffs progressed, the league allowed them to bring in their close relatives or family members.
ADVERTISEMENT
Article continues below this ad
The meeting was heartwarming for the Celtics star, as he finally met his two-year-old son. But the major focus for Tatum right now must be the upcoming series against the Miami Heat. Currently, the Heat are the team to beat in the Eastern Conference, as they sent the first-seeded Bucks home in the second-round series.
What's next for Jayson Tatum and the Boston Celtics?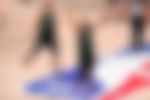 Jayson Tatum has proved himself as the leader of this Boston Celtics roster. Tatum is averaging 25.3 points per game while grabbing 10.1 boards per game in the postseason. Although the Celtics have other scoring options in Jaylen Brown and Kemba Walker, the number one option is undoubtedly Jayson Tatum.
ADVERTISEMENT
Article continues below this ad
So far, the 22-year-old has led his team to a respectable postseason run. But the end goal is still eight wins away from the Celtics. They are on a quest for the championship banner #18 and honestly, the current Celtics team can achieve that feat.
Unless the Celtics completely choke against the Heat defense, they should come out as the winners of this series. But we can never be too sure about anything in the NBA. The Miami Heat have already proved their abilities in the Playoffs, as they have lost just one game so far.
ADVERTISEMENT
Article continues below this ad
Which team will enter the 2020 NBA finals? We will have an answer soon.