Brooklyn Nets 2020-21 NBA Schedule: Important Fixtures Involving Warriors, Miami Heat and Others
Published 12/07/2020, 12:30 AM EST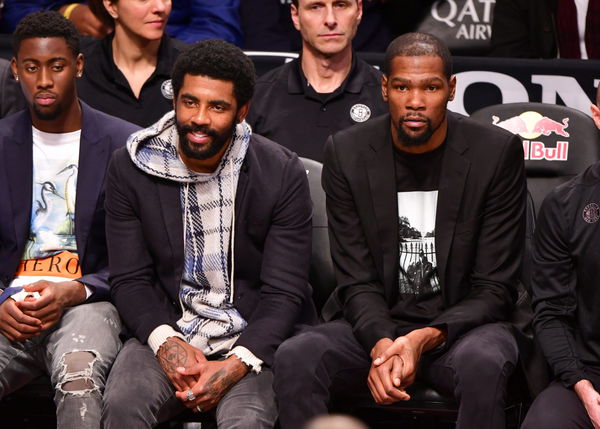 ---
---
The wait is finally over. It's been a year since the Brooklyn Nets hit the free-agency jackpot but fans didn't get to see the much-awaited debut of their two superstars. Because of the uncertainty of COVID-19 and its implications, the NBA has released a partial schedule to keep up the excitement.
ADVERTISEMENT
Article continues below this ad
ADVERTISEMENT
Article continues below this ad
Who isn't thrilled to see Kevin Durant and Kyrie Irving take the floor by storm? The last time Durant appeared in an NBA game was Game 5 of the 2019 NBA Finals while playing for the Golden State Warriors. Coincidentally, his return with the Brooklyn Nets on December 22 will be against his former team, the Warriors.
KD and Irving going head to head with Stephen Curry and a roster filled with a talented supporting cast is going to be an exciting watch. The Nets' supporting cast is no less with Spencer Dinwiddie, Caris LeVert, Jarrett Allen, and many more.
The Brooklyn Nets were knocked out in the first half of the playoffs last season. Before aiming to win a title, they need to go focus on going deeper in the playoffs. How should they do that? By focusing on winning the key games ahead of them.
Brooklyn Nets: Top Matchups
Brooklyn Nets vs Warriors
Playing against the Warriors makes for a dramatic storyline above everything else. The NBA Finals in 2019 changed GSW's course to success drastically.
Durant's former teammates will be more than determined to show him what they've got. However, Klay Thompson sat out throughout the last season because he tore his Achilles. Bad news struck the Warriors when they realized that he won't be back this season as well.
Even Curry played just five games last season due to injuries. This resulted in the Warriors' finishing last in the league and ended up with the No. 2 overall pick in the 2020 NBA Draft. It will be interesting to see what Curry and Draymond Green do to send their former teammate a harsh message.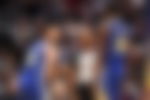 Nets vs Miami Heat
What better way to test your team than by crossing paths with the previous season's conference champions? The Miami Heat are well equipped to lead the Eastern Conference once again, despite losing some of their key pieces this offseason.
The only concerning factor is whether Durant will play the way he did before his injuries. Only if he plays closer to that level, will the Nets have a better chance in their run to the title.
Nets. vs Knicks
Though there isn't much to this matchup, Durant and Irving refusing to join the New York Knicks during free agency last season makes it exciting. The Knicks have upped their roster a bit. Adding Obi Toppin in the draft under head coach Tom Thibodeau will be another fascinating watch.
Although the winner of this matchup is obvious, can the Knicks surprise fans?
A partial schedule for the 2021 season
ADVERTISEMENT
Article continues below this ad
Dec 22 (7:00 pm EST)

Home

Golden State Warriors

Jan 27 (7:30 pm EST)

Away

Atlanta Hawks

Dec 25 (5:00 pm EST)

Away

Boston Celtics

Jan 29 (8:00 pm EST)

Away

Oklahoma City Thunder

Dec 27 (7:00 pm EST)

Away

Charlotte Hornets

Jan 31 (7:00 pm EST)

Away

Washington Wizards

Dec 28 (7:30 pm EST)

Home

Memphis Grizzlies

Feb 2 (7:30 pm EST)

Home

LA Clippers

Dec 30 (7:30 pm EST)

Home

Atlanta Hawks

Feb 5 (7:30 pm EST)

Home

Toronto Raptors

Jan 1 (7:30 pm EST)

Home

Atlanta Hawks

Feb 6 (7:00 pm EST)

Away

Philadelphia 76ers

Jan 3 (6:00 pm EST)

Home

Washington Wizards

Feb 9 (7:00 pm EST)

Away

Detroit Pistons

Jan 5 (7:30 pm EST)

Home

Utah Jazz

Feb 10 (7:30 pm EST)

Home

Indiana Pacers

Jan 7 (7:30 pm EST)

Home

Philadelphia 76ers

Feb 13 (8:30 pm EST)

Away

Golden State Warriors

Jan 8 (8:00 pm EST)

Away

Memphis Grizzlies

Feb 15 (10:00 pm EST)

Away

Sacramento Kings

Jan 10 (6:00 pm EST)

Home

Oklahoma City Thunder

Feb 16 (10:00 pm EST)

Away

Phoenix Suns

Jan 12 (7:30 pm EST)

Home

Denver Nuggets

Feb 18 (10:00 pm EST)

Away

Los Angeles Lakers

Jan 13 (7:30 pm EST)

Away

New York Knicks

Feb 21 (8:00 pm EST)

Away

LA Clippers

Jan 16 (6:00 pm EST)

Home

Orlando Magic

Feb 23 (7:30 pm EST)

Home

Sacramento Kings

Jan 18 (7:30 pm EST)

Home

Milwaukee Bucks

Feb 25 (7:30 pm EST)

Home

Orlando Magic

Jan 20 (7:00 pm EST)

Away

Cleveland Cavaliers

Feb 27 (8:30 pm EST)

Home

Dallas Mavericks

Jan 22 (7:30 pm EST)

Away

Cleveland Cavaliers

March 1 (8:30 pm EST)

Away

San Antonio Spurs

Jan 23 (7:30 pm EST)

Home 

Miami Heat

March 3 (7:30 pm EST)

Away

Houston Rockets
ADVERTISEMENT
Article continues below this ad