Brooklyn Nets Emerging Guard Opens Up About Sharing the Court with Teammates Kevin Durant and Kyrie Irving
Published 09/17/2020, 7:30 AM EDT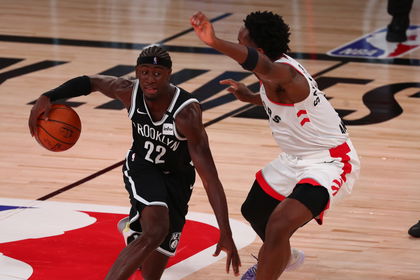 ---
---
After being able to sign Kevin Durant and Kyrie Irving, the Brooklyn Nets were expected to be the next big thing. However, after both the stars suffered from some serious injuries and couldn't play this season, the Nets remained in the same place as before. Although it looks like things might be looking up for them. The Nets have recently hired a new head coach, Steve Nash. And Nash looks very promising to lead this star-studded team. Both Durant and Irving are expected to be completely back for the upcoming season and will look to change the way the Nets are seen.
ADVERTISEMENT
Article continues below this ad
Other than these two key players, there is one more player who is considered the third star in the Nets. Caris LeVert fits the role perfectly behind Durant and Irving. LeVert has averaged 18.7 points and 4.4 assists while hitting 36.4 percent of his three-pointers. It is like the Nets are trying to replicate the 'Big Three' model. Like LeBron James, Dwyane Wade, and Chris Bosh from their time in the Miami Heat. As amazing as that sounds, it isn't easy being the third guy behind two already very big stars.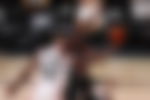 Brooklyn Nets emerging star guard on fitting in with Kevin Durant and Kyrie Irving
ADVERTISEMENT
Article continues below this ad
In a podcast, LeVert opened up about how it feels to be the third most reliable person on the team. The Ringer's host, Ryan Ruocco asked Caris, "How do you interpret your game, what you do best, and how it meshes Kyrie and KD?"
"When I was first taught to play basketball, I was taught to be like a player who kind of can do everything. So that you know, no matter who you're playing with you can be on the floor," said LeVert. "That's kind of what I pride myself in. Being able to do a lot of different things. Defend, shoot, dribble, pass, so I feel like honestly, I can play with anybody because I am able to you know have those different skill sets. So for me, I think it'll be extremely fun to play with those guys and get different opportunities"
ADVERTISEMENT
Article continues below this ad
He further explained, "You know when those guys are on the floor, their defender isn't leaving them. And when they have the ball, all the attention is going to be on them. So I feel like that's going to open up shots for whoever is on the court with them. So I feel like for me it's just a matter of taking advantage of the opportunity."
This certainly gives the Nets fan's a lot to look forward to. The 'Big Three' of the Brooklyn Nets looks quite promising. There is no doubt that they will show a very different side of them on the court.
ADVERTISEMENT
Article continues below this ad