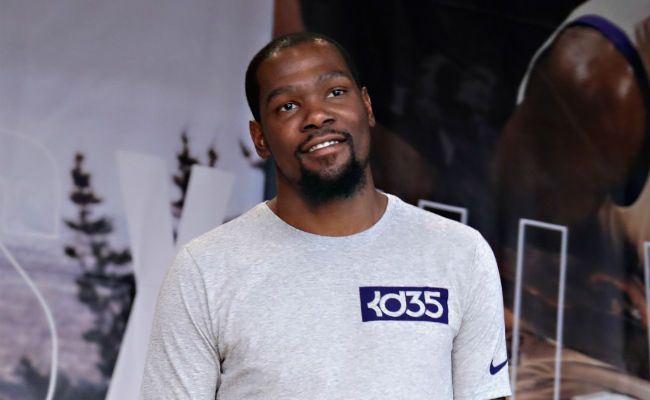 Brooklyn Nets star Kevin Durant will headline the players only NBA 2K tournament that is set to start on Friday.
Chris Haynes of Yahoo sports earlier reported that the NBA was looking to start a players only NBA 2K tournament. According to him the NBA was planning a 16-man tournament with each player having a representative.
NBA is planning a players-only NBA 2K tournament with aim of launching Friday; ESPN will broadcast, per @ChrisBHaynes

Each team is expected to have a player representative pic.twitter.com/VFNwEAAeC1

— Bleacher Report (@BleacherReport) March 31, 2020
Haynes has now further reported that Kevin Durant will be a part of the event that is scheduled for 10 days beginning on Friday. The scheduling of the event seems all but confirmed as Haynes reports suggested that the league was finalizing some details.
The other star attractions of the event apart from Durant will be Utah Jazz's Donovan Mitchell, four-time NBA All-Star DeMarcus Cousins and his fellow big man Andre Drummond.
.@NBA2K's "Players-Only" tournament will air starting this Friday on @ESPN. Here are the brackets – who do you think is gonna take it all? pic.twitter.com/51ltOfjeqR

— The Boardroom (@boardroom) March 31, 2020
Durant has been one of the NBA players to get infected by the coronavirus. When Brooklyn Nets announced the virus affecting four of its players, it included their star man Durant. However, he has recently said that he has been feeling good and doing well.
Another of the upcoming events' participant, Mitchell, was the second coronavirus case in NBA. But the Jazz cleared him and the others of the virus last week.
— Kevin Durant (@KDTrey5) March 31, 2020
With Kevin Durant and others, fans can rejoice with some action
It has been close to three weeks now since the NBA suspended its league. With the NBA 2K tournament broadcasting on ESPN, fans ca watch a few of their stars i action albeit virtually involved.
It can also generate some revenue for the broadcasters amidst the pandemic.