Kevin Durant and Kyrie Irving All Set to Gain Another Star in Nets Roster: Reports
Published 03/31/2020, 10:41 AM EDT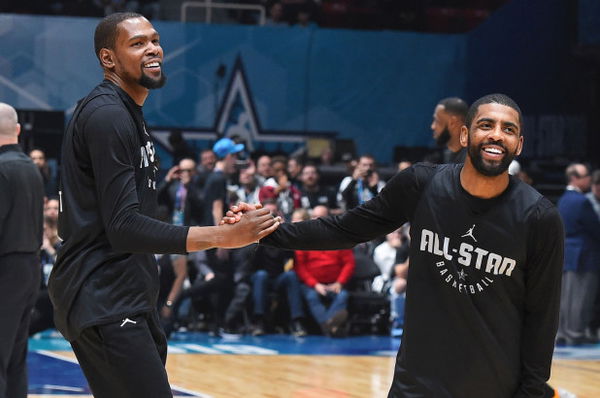 With the season on complete hold as of now. Kevin Durant, Kyrie Irving led Brooklyn Nets stands 7th in the Eastern Conference with 30-34 record so far. Performing better at home than on the road. No one says the complete operations standstill around as well. The front office of Brooklyn Nets seems to be one of them. Recently a development has been observed as per sources.
ADVERTISEMENT
Article continues below this ad
Do Kevin and Kyrie need another star support?
Before the start of 2019-2020 season Nets acquired two power-pack players of NBA in recent years, Kevin Durant, and Kyrie Irving.  Kevin left his pervious championship team Golden State Warriors. Kyrie Irving didn't fit in well with Glorious Boston Celtics as well. Both friends off-court came in together with De'Andre Jordan to strengthen the Nets roster.
ADVERTISEMENT
Article continues below this ad
Kevin Durant is out for this season indefinitely with serious Achilles Tendon injury. Potential starting five for nets then comprise of Kyrie Irving, Joe Harris, Caris LeVert, Taurean Prince, and De'Andre Jordan.  This line-up looks promising yet simple to play around. Spence Didwinnie coming off the bench to support the core. This new addition to roster left Jarret Allen out of contenders for starting with Nets, Especially due to De'Andre Jordan.
Yet, this team still seems to be finding that missing element they think can make them a championship team. why so?
"I believe they have telegraphed they intend to use some of their young talents to acquire a third star along with Kyrie and Durant. Now, we can enter a healthy debate here about whether Caris LeVert is that third star and they make the decision that he is," said ESPN's Brian Windhorst, according to RealGM
Brooklyn Nets options
Caris LeVert is scoring at a stable form with 17.7 PPG. LeVert supports well to Kyrie's gameplan sense and rotates the ball around well with around 4.1APG. This makes him a definite contender to be the third star for Nets. And form a strong trio with Kyrie and Kevin as young talent.
ADVERTISEMENT
Article continues below this ad
on the other hand, Nets would also look into the trading sets with Spence and Allen in against a better All-Star. Bradley beal and Jrue Holiday are in definite contention for the spot. The only issue still remains is their tight salary cap which they drained in for bringing Kyrie Irving and Kevin Durant to Barclays Center.
ADVERTISEMENT
Article continues below this ad