Kyrie Irving Feeling "Scapegoated" For His Views on the NBA's Restart: Reports
Published 06/18/2020, 4:52 AM EDT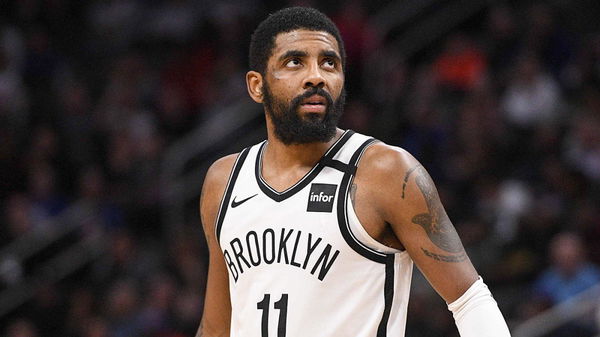 ---
---
Brooklyn Nets star Kyrie Irving seems to be in a feeling of being targeted after his comments about the league's restart came out.
ADVERTISEMENT
Article continues below this ad
He led a conference call with about 80 players last Friday stating how the league's resumption could affect the ongoing protests against societal issues. Since then, there have been many coming out with views against those of Irving's.
Houston Rockets' Austin Rivers and Utah Jazz's Ed Davis were among those who raised monetary concerns and explained how the NBA could help in giving back to the protests. Most recently, former Boston Celtics center Kendrick Perkins slammed Kyrie Irving for his views.
ADVERTISEMENT
Article continues below this ad
"Kyrie Irving, right now you are the distraction. You're distracting the whole situation," Perkins said on ESPN's Get Up!. "It's crazy to me because you come out and do something separately, without talking to your (NBPA) president Chris Paul or consulting with Michele Roberts and go off and do something totally different and get a group of guys together and say, 'Let's sit out.' It makes zero sense and I totally disagree with Kyrie Irving."
Kyrie Irving is feeling "attacked"
Almost a week after Irving's conference call, he is reportedly not feeling good about everybody expressing their views against him. Reports suggest he is feeling "scapegoated."
According to @ScoopB, Kyrie Irving feels "attacked" and "scapegoated."

Kyrie states his conference call was only meant to be an outlet for players to express concerns about going to Orlando.

— Hoop Central (@TheHoopCentral) June 17, 2020
ADVERTISEMENT
Article continues below this ad
Over the last few days, there have also been many who have agreed with Kyrie. Los Angeles Lakers center Dwight Howard released a statement agreeing to him. Also, former NBA player Stephen Jackson was with Irving saying the NBA should not resume under the current circumstances.
According to reports, the tentative date for the league's resumption is July 31. Irving won't be in action due to his shoulder injury but might travel Oakland with the team if the league does resume. The Nets were seventh in the Eastern Conference prior to the league's suspension with 30 wins in 64 games. There are among the nine Eastern Conference teams to be a part of the league when it restarts.
ADVERTISEMENT
Article continues below this ad