"But Would he Really Give Everything Back?": Utah Jazz Player Hits Out at Kyrie Irving and Dwight Howard
Published 06/15/2020, 4:14 PM EDT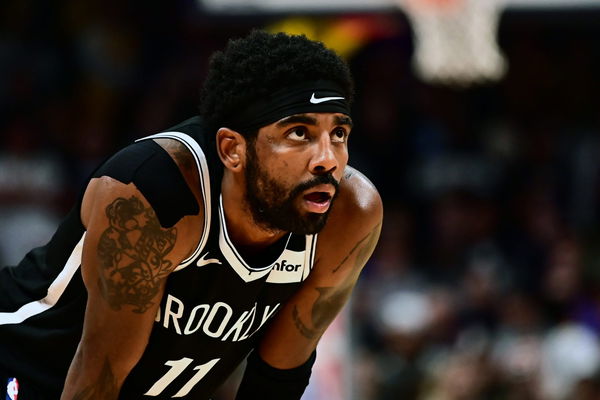 ---
---
Since the NBA agreed on a 22-team format for the league's resumption, there have been a few against the idea of a restart. Last Friday, Kyrie Irving led a conference call expressing his ideas against the league's restart. He felt basketball action would be a distraction for the ongoing protests agianst the issues in society.
ADVERTISEMENT
Article continues below this ad
Later, Los Angeles Lakers center Dwight Howard also released a statement, agreeing with Irving.
Not everyone agrees with Kyrie Irving
ADVERTISEMENT
Article continues below this ad
Utah Jazz veteran Ed Davis was among those disagreeing with Kyrie. He believed that the league remaining inactive would pose financial concerns for the players who are not on the superstar level.
"It's easy for a guy like Kyrie to say that he'll give everything back [for social reform], but would he really give everything back? It's easy for Dwight Howard to say that we don't need to play when he's in Atlanta in his $20 million mansion," he said as per Alex Kennedy of HoopsHype.com.
"But there are other guys on the rosters who need this money to provide for whoever they're taking care of and things like that. It's easy for the superstars in the league to say this and how they feel about this and that. But it means a lot more when it comes from the role players and the guys that [aren't stars]. There are so many different perspectives because there are so many different levels in the NBA."
ADVERTISEMENT
Article continues below this ad
He added he financial concern was not about himself and it was more about the younger players. Davis is currently in his 10th season in the NBA. He started his NBA career in 2010 with Toronto Raptors. Later, he went on to play for various teams including Memphis Grizzlies, Los Angeles Lakers, Portland Trail Blazers and Brooklyn Nets. He joined Utah Jazz last year.
ADVERTISEMENT
Article continues below this ad
Davis wasn't the only one who talked about how the league resuming ould bring in money. Soon after Kyrie's views came out, Houston Rockets guard Austin Rivers explained why it is important for the league to restart. He felt the money that the league brings in would, in fact, would help people to contribute in the fight against social issues.