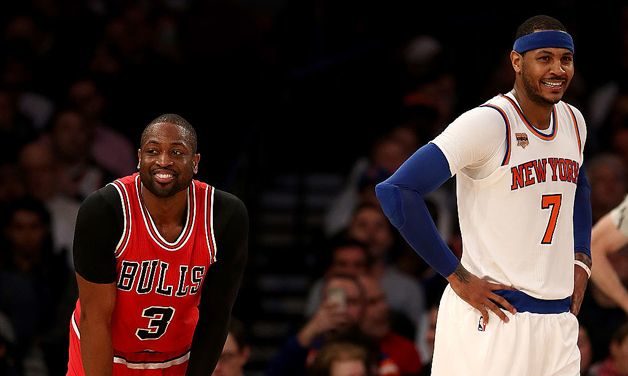 LeBron James, Carmelo Anthony, Chris Bosh, and Dwyane Wade made four out of the first five draft picks at the 2003 NBA draft. It is a reflection of why many consider 2003 to be the draft class among the most talented ones.
Among the names in the 2003 draft class was Darko Milicic. Surprisingly, he was the second overall pick in the draft coming from the Serbian Basketball league. While Milicic himself was an exciting prospect, many were surprised when Detroit Pistons picked him ahead of the likes of Melo, Wade, and Bosh.
Talking in a recent Instagram live session, Anthony and Wade discussed the 2003 NBA Draft class. During their conversation, Wade admitted that he saw Melo playing prior to the draft and thought he would be the first pick.
"I was like, 'That's the number one pick in the draft.'" Wade recounted after seeing Anthony play live prior to the draft. "In my mind, not knowing about Bron and definitely not knowing about Darko."
It was then that Anthony asked "Who?" on hearing Darko's name as Wade burst into laughter.
Melo doesn't remember who Darko is anymore 😅 pic.twitter.com/40OQw5pKY1

— Bleacher Report (@BleacherReport) March 28, 2020
DWade says he didn't know about Darko before the draft

Melo: "Who?" 😂😂😂 pic.twitter.com/WnrqVrjJ2f

— NBA Central (@TheNBACentral) March 27, 2020
Dwyane Wade & Carmelo Anthony have had successful careers but Darko Milcic had a slump
Nearly two decades later, the career paths have certainly proved the Pistons wrong in drafting Milicic with the second overall pick. Wade and Bosh have been a part of a formidable trio in Miami Heat along with LeBron James, where they won two Championships together. Wade, in fact, already had a Championship to his name before forming the trio. Anthony, meanwhile, might not have won any title but his career hasn't been any less glorious. The 10-time NBA All-Star is regarded among the best players of the generation. At 35, he is showing he still has something left in the tank playing for Portland Trail Blazers.
Milicic, on the other hand, las played in the NBA for Boston Celtics in 2012. His career didn't pan out as he or the Detroit Pistons had expected.