'Championship Caliber': Former NBA Player Has High Praise For Atlanta Hawks
Published 12/06/2020, 4:30 PM EST
The Atlanta Hawks had a great offseason. People have swept the success of their free agency under the rug. They have addressed their inexperience by adding championship-pedigree players like Rajon Rondo. The acquisition of scorers Gallinari and Bogdanovic won't do their chances any harm either. At the very least, they can become a perennial playoff team.
ADVERTISEMENT
Article continues below this ad
Hawks are on the right path
Former Phoenix Suns player and current TV Analyst Eddie Johnson is sold on the Hawks. He believes that they are on the right path to compete for the NBA title in the future, "It is a process and the process the Hawks are on right now is championship caliber.
ADVERTISEMENT
Article continues below this ad
"Picking up like (Clint) Capela; nobody even talks about Capela who they picked up. Then you get (Rajon) Rondo, you get (Danilo) Gallinari. Right there you have three veterans who have tasted success. That's gonna surround these young players.
"I am happy for the Hawks, I truly am… If fans were allowed in that building, they are gonna be just as packed as a potential champion"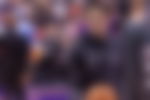 However, the former NBA 'Sixth Man of the Year' is not jumping the gun. Their key core is still young and experienced, and they haven't made the playoffs for a while now. Asking to dampen the expectations for the coming season on the SiriusXM NBA Radio podcast, Johnson said –
"For the Atlanta Hawks who have not made the playoffs in a number of years, their championship is to just be 7th or 8th seed. Because you can't think about a Championship until you actually start to experience the Playoffs. This is a playoff team now. They are extremely deep."
ADVERTISEMENT
Article continues below this ad
But are the Atlanta Hawks that good?
They certainly can make the playoffs this coming season. And they should, with the mixture of talent and experience that they have now.
ADVERTISEMENT
Article continues below this ad
However, winning the NBA title requires a whole another level. You have to go through various trials and tribulations in the playoffs to reach that level. Maybe if their young core develops well and they can keep them intact, they can contend for it in the future.
But for now, making the playoffs will be like a mini-championship for them.