"I Wasn't a Fan": Michael Jordan Admits He Didn't Approve of Phil Jackson or His Methodology as a Coach Initially
Published 04/27/2020, 3:25 PM EDT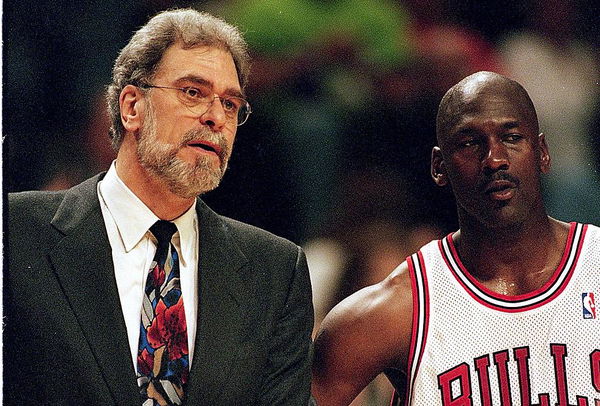 As a coach of Chicago Bulls, Phil Jackson led Michael Jordan and co to six NBA titles in eight years. Jackson and Jordan built such a good relationship that when Jackson was leaving in 1998, Jordan also made it his final season albeit it wasn't in the end.
ADVERTISEMENT
Article continues below this ad
Yet, in 1989, when General ManagerJerry Krause was looking to bring in Phl Jackson, Jordan wasn't the most impressed. Doug Collins was then the coach of the Bulls. He was there since 1986. Under Collins, Joran enjoyed a scoring spree that he feared would be under threat if Jackson becomes the coach.
The fourth episode of The Last Dance saw Jordan talk about it.
ADVERTISEMENT
Article continues below this ad
"I wasn't a Phil Jackson fan when he first came in," Jordan said in the episode. "He was coming in to take the ball out of my hands. Doug was putting the ball in my hands."
Jackson also did not expect Jordan achieving personal scoring milestones. But Jackson eventually gave titles.
"I don't anticipate you're going to be the scoring champion in the league," Jackson told Jordan. "The spotlight is on the ball. If you're the guy that's always going to have the ball, teams can generate a defense against that. That is what happened with the Pistons in the last couple of years."
1991 NBA finals might have convinced Michael Jordan of Phil Jackson's tactics
Jackson used the famous Triangle Offense that involved teammates sharing offensive load rather than a single player going for it. Jordan had feared it would take the limelight off him. But instead, he always remained the superstar around which the team revolved.
ADVERTISEMENT
Article continues below this ad
The most significant moment which probably convinced Jordan of the Triangle Offense was towards the end of Game 5 of the 1991 NBA Finals. Jackson asked Jordan to pass the ball to John Paxson who remained free to shoot. Jordan did it and the Bulls would win the first of their six titles in the decade.
ADVERTISEMENT
Article continues below this ad
Under Jackson, the Bulls went on to win five out of the next seven titles. Jackson left the Bulls in 998 and joined Los Angeles Lakers. He went on to achieve another three-peat with the Lakers and two more titles later. In an illustrious coaching career, Jackson has accumulated 11 NBA titles.