"He Owes Me an Apology": When Scottie Pippen Was Just Plain Mean to Charles Barkley
Published 05/13/2020, 1:30 PM EDT
---
---
Trash talking and hurtful comments are the foundation on which NBA players base their energy on the court. And sometimes, it can get pretty mean. Even though we consider Michael Jordan as the king of mean comments, it sure seems his No.2, Scottie Pippen, learned something from him.
ADVERTISEMENT
Article continues below this ad
When Scottie Pippen body shamed Charles Barkley
It was the 1998-99 season and former Chicago Bulls star Scottie Pippen had just joined the Houston Rockets. He played alongside the former Phoenix Suns star, Charles Barkley. However, they ended up not being the best of teammates.
ADVERTISEMENT
Article continues below this ad
Scottie Pippen had requested a trade from the Bulls, and in the summer of 1998, his wish stood granted.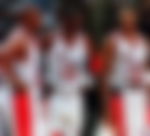 The Bulls traded Pippen to the Houston Rockets to join Hakeem Olajuwon and Charles Barkley.  When you think of it, it seems like one hell of a team. However, when you take age into consideration, the team included a 33-yr old Pippen, 35-yr old Barkley, and 36-yr old Hakeem.
Even though it meant a lot of experience, it also meant a lot of miles on those skillful legs. As predicted, this old core Rockets team lost 3-1 to the young team of Lakers comprising Shaquille O'Neal and Kobe Bryant.
After the defeat, we see a disappointed Pippen realizing his mistake of not listening to Michael Jordan's advice about Barkley. It seems Pippen blamed their loss on Barkley. Inevitably, after their first-round exit, Pippen requested a trade to the Los Angeles Lakers.
"I probably should have listened to Michael a year ago when he said that Charles will never win a championship because he doesn't show any dedication," Pippen told LA Times.
"He's a very selfish guy. He doesn't show the desire to want to win. That's my reason for wanting to get away from playing with him, because he just doesn't show the dedication."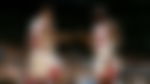 Pippen said the above, after Barkley said the former owes him an apology. He revealed he felt disappointed and criticized Pippen for the trade request. Scottie made sure he was very clear about the fact that there is no chance of him apologizing.
"I wouldn't give Charles Barkley an apology at gunpoint. If anything, he owes me an apology for coming to play with his sorry fat butt."
Barkley , ever the joker, amused the media when he gave his response on Pippen's comment. He said,
"As you know, I always carry a gun with me," Barkley joked. "So there's a chance. If I get arrested for murder, then you know he didn't apologize."
ADVERTISEMENT
Article continues below this ad
Later, Barkley also revealed that Michael Jordan called him up and told him that he had said no such thing that Scottie claimed he did. So, Scottie, nice try man, but it was just plain mean, and according to what MJ apparently claims, also false.
ADVERTISEMENT
Article continues below this ad