Michael Jordan vs LeBron James: Comparing the Duo's Performance in NBA Playoffs
Published 07/20/2020, 12:45 PM EDT
LeBron James vs Michael Jordan is the fantasy basketball match we all wish we got to see. Jordan's last season in the league was the year before LeBron got drafted, so the pair never faced each other on an NBA court. Jordan has left a towering legacy, and 'The Chosen One' is hell-bent on surpassing it. LeBron wears the same number as Jordan, one of his childhood heroes. However, the hero would soon become his biggest rival.
MJ's accomplishments as a basketball player almost seem like they are out of a video game. He dominated all his opponents and never saw a game 7 in the NBA Finals. His perfect 6-0 record in the NBA Finals will always be a tall order for modern players to match. However, no player has come closer to matching that than LeBron.
'Bron has a disappointing 3-6 record in the NBA Finals, but his dominance in the playoffs is unquestioned. He took the Cavs to the Finals as a 23-year-old in 2007 before he got swept by the Spurs. He even got swept by the Warriors the last time we saw him in the playoffs (2018). However, LeBron went to 8 consecutive NBA Finals (4 with the Miami Heat and 4 with the Cleveland Cavaliers) and 13 straight playoffs. Jordan had a lot of disappointing early years, truly becoming dominant after Scottie Pippen joined the team. LeBron himself has crumbled in the Finals without co-stars, and sometimes, even with co-stars. So who is the better playoff performer?
ADVERTISEMENT
Article continues below this ad
LeBron James vs Michael Jordan: The Numbers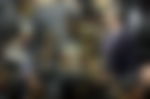 LeBron James is the leading scorer in playoff history (6911 points), sitting comfortably ahead of second-placed MJ (5987 points). A lot of that has to do with the fact that 'Bron has played 60 more playoff games than Jordan's 179.
Jordan was the better per game scorer, averaging 33.4 points per game in the playoffs, ahead of LeBron's 28.9. LeBron has the edge on both rebounding (8.9 to 6.4 ) and assists (7.1 to 5.7).
Their defensive performance can come down to a matter of preference. Jordan was the better on-ball defender, averaging 2.1 steals a game to LeBron's 1.8. However, LeBron's superior athleticism and size give him a slight advantage in blocks (1 to 0.9). King James has the most famous defensive play in NBA history with his block on Andre Iguodala. MJ, on the other hand, has two of the most famous NBA shots ever. The first over Craig Ehlo and the Cleveland Cavaliers and the other one in his last season against the Utah Jazz.
LeBron James vs Michael Jordan: The Narratives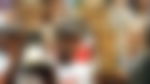 LeBron James has lost 6 Finals series', which is the same number Jordan has won. The King lost to an unbeatable Golden State Warriors team for two years (17, 18) and was unlucky with injuries one year (15). His 2007 Cavs were no match for the Spurs, and no one expected them to compete either.
The two big skid marks on LeBron's resume are the two Finals he lost in Miami. The 2014 loss was to one of the most balanced super-teams in the Spurs. They beat down a slowly weakening Heatles team. Bosh and Wade seemed to have lost a step, and their bench was remarkably bad that year. However, there is no excuse for 'Bron choking against Dirk Nowitzki in 2011. The Dallas Mavericks series was LeBron's darkest playoff moment. Jordan doesn't have a shameful equivalent to that level.
MJ was a favorite every time he entered the Finals with the Bulls'. One thing that The Last Dance proved was that Jordan's Bulls teams were packed with talent outside him and Pip as well. But, Jordan did have some mighty struggles before Pippen developed.
Michael Jordan was swept in his first three playoff appearances. First by the Milwaukee Bucks (1985) and then twice by the Boston Celtics (1986, 87). After finally overcoming this first-round bug, Jordan would lose to the Detroit Pistons for three consecutive years (88, 89, 90). Jordan truly loves the number three, as he won his first championship in 1991, which would lead to his first three-peat. Jordan would also lose a second-round series in 1995 to the Shaquille O'Neal and Penny Hardaway led Orlando Magic.
Who Was More Valuable?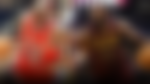 Looking at advanced stats, we can deduce which player was more valuable to their team's success at the time. Player efficiency rating (PER) gives the edge to Jordan, who had a PER of 28.6 to LeBron's 28.3. His Airness is the all-time playoff leader in PER and Box Plus/Minus. He also has the highest usage percentage (35.6), ahead of LeBron's 32.2. But The King tops everyone in Value Over Replacement (VORP) and Win Shares.
LeBron's VORP (30.8) is 6.1 points higher than Jordan's 24.7. This means that LeBron's teams would be worse off without him on the court as compared to Jordan's. LeBron's win shares are comfortably better than MJ's, as he racks in 51 over Jordan's 39.8.  This statistic is designed to show, quantifiably, the impact one player has on winning over the other. Considering how LeBron James has hit the most buzzer-beaters in playoff history and made it to 8 consecutive Finals, he was bound to have the higher win share numbers. One area LeBron exceeds at which will surprise most people is true shooting percentage. LeBron shot at 57.9% to Jordan's 56.8%.
Who Wins?
ADVERTISEMENT
Article continues below this ad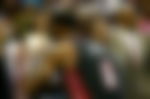 The numbers look kindly at both men.
Jordan has the highest averages in playoff history, but LeBron has comfortably outscored Jordan in totality. LeBron has contributed more to his team's wins than Jordan did, but Jordan rarely lost after hitting his prime. No other team in the modern NBA (except the 00-02 Lakers) have three-peated once, let alone twice. Jordan can be credited for every single one of those Bulls titles. However, 'Bron led the Cavaliers to the most unlikely Championship victory in 2016 by winning after a 3-1 deficit. Jordan fans would argue that he never was down by three games in a Finals series.
ADVERTISEMENT
Article continues below this ad
At the end of the day, it comes down to preference. Do you prefer Jordan's unbeatable peak or do you prefer LeBron's long and sustained excellence, which didn't always end with him victorious? This debate isn't over, as LeBron gears up for yet another playoff run to become the first man to have won a Finals MVP on three different teams. For that honor, he needs to get past Kawhi Leonard, who is chasing the same unique feat.
LeBron doesn't need to chase the ghost of Michael Jordan to cement his status in the upper echelon of basketball, he needs to focus on the present and ensure that his unique playoff achievements are just as well remembered as Jordan's.