Charles Barkley Reveals Why Michael Jordan Was the Person He Wanted to Beat the Most
Published 05/04/2020, 7:31 AM EDT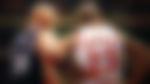 ---
---
The NBA community has witnessed Michael Jordan and his competitive mindset throughout his career. He was merciless on the court and Charles Barkley recently revealed the reason behind MJ's ruthless performances.
ADVERTISEMENT
Article continues below this ad
What fueled the Michael Jordan fire on the court?
NBA legend Charles Barkley recently joined Scott Van Pelt on SportsCenter. He talked about how Jordan held grudges that fueled his competitiveness. He also mentioned that his thirst to win at all costs made him what he was as a player.
ADVERTISEMENT
Article continues below this ad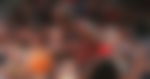 Barkley initially talked about about the two best athletes according to him, across all sports. He said, "I've been in the game of NBA since 1984. Michael Jordan and Tiger Woods are the two greatest athletes I've ever seen in my life.
"I've been around a lot of movie stars. Around a lot of great athletes. Jordan and Woods are the only two guys I've ever been around where people lose their minds when they see them or be in a room with them. I can always say that it was an honor and a privilege to play against Michael."
Then, the former Phoenix Suns star listed several dominant players across sports. He added that he didn't mean to disrespect any of the greats, however, "When you're around Michael and Tiger, they're a different animal. You realize when someones crazy and special," he claimed.
The host, Scott Van Pelt, then asked Barkley, "How hard was it Charles, to be a contemporary, a peer, on an MVP level.. and maintain a friendship with a man, who… you get one chance with (that guy)?"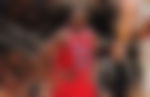 Barkley revealed that it was a risky task for him, as, if he lost, he'd never hear the end of it all. He explained, "It was difficult because if you lose to him you're never gonna hear the end of it. There's no person in my life that I've ever met, that I wanted to beat more in basketball. Because when you lose to him, you've got to hear about it every day for the rest of your life."
The host later asked how Jordan took everything so personally. "I wonder why he has to hold a grudge so personal?" After taking a moment to think about it, Barkley said, "Well, I think that's what made him the G.O.A.T. He takes everything so personally."
ADVERTISEMENT
Article continues below this ad
ADVERTISEMENT
Article continues below this ad
From the video, it is clear that for Charles Barkley, Jordan was the best of the best. So, if you ever had Jordan perform really well against you, you probably were the reason. Outstanding job on providing MJ with motivation!