"Chicago Was Very Tempting": How Close Were Dwyane Wade and LeBron James to Joining Chicago Bulls in 2010?
Published 06/01/2020, 6:30 PM EDT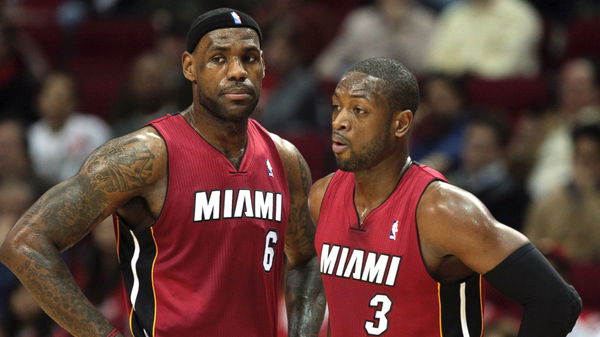 ---
---
The NBA world is filled with juicy stories that attract anyone's attention. From unsuccessful trade attempts to mind-boggling free-agency deals, the league is covered with its share of drool-worthy stories. Remember when the Chicago Bulls were rumored to sign free-agents LeBron James and Dwyane Wade to revive its lost dynasty?
ADVERTISEMENT
Article continues below this ad
2010 saw LeBron James and Dwyane Wade becoming unrestricted free agents. The duo developed a thick bond very early in their playing days and wanted the opportunity to partner with each other at a team. The pair decided it was time for a change when their contracts with their respective teams came to an end.
The duo, along with Chris Bosh, who was in Toronto at the time, got along and decided to move to a team together. The trio was a part of the 2003 Draft class and remained close to each other ever since. They wanted to form a 'Big 3' in a team that would embrace their talents all together. Chicago Bulls seemed like the dream destination for them at that time. All three players wished to move to the Windy City in hopes of achieving greatness together. 
ADVERTISEMENT
Article continues below this ad
However, the deal never happened, despite the Bulls' extreme interest in the deal. The trio ended up joining the Miami Heat instead. Wade gave a statement about the broken deal in 2010 and expressed his take over the issue. "It was us trying to put together our dream team in a sense," said Wade. "Chicago was very tempting from a standpoint of what they had on the roster when it came to the young talent. But when it came to the point Miami was able to get three players, that changed the whole dynamic of the summer."
What went down when the Bulls tried to sign LeBron James, Wade, and Bosh all at once?
Wade openly stated that it was their desire to play together for the Bulls. "I mean, this was a place I wanted to play. It was a place that LeBron also loved. We loved the city of Chicago. It's a great market, as well. Obviously, the sunny sun of Miami is great, too. We had two great choices."
For Wade, he grew up in Chicago, and coming back to his hometown was a long-time dream. Although he achieved it in 2016, the three-time champion wanted it badly long back. Wade just wanted to play alongside Bosh and LeBron. The Bulls were very open in wanting the trio into their team. On the other hand, several complications including salary cap restrictions stopped them from easily obtaining the best in the league.
The Bulls also required a huge revitalization during that period. They still do, even now. Ever since Michael Jordan and his famed team bowed out, the Bulls have only managed to make it as far as the Conference Finals, once. With a serious revamping in consideration, the Bulls yearned for LeBron James and his other two mates, but were unsuccessful with their attempt. 
The team could only afford two players and they were highly contemplating the perfect pairing. "It probably was going to be LeBron and Chris or me and Chris," Wade said. When Chicago pulled out, Pat Riely and the Miami Heat were quick to mesmerize the trio with the possibilities of winning championships together. They knew they only had the Heat to cash in and didn't waste time in doing so.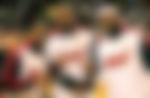 LeBron James, Dwyane Wade, and Chris Bosh joined the Miami Heat in 2010 and the rest, as we know, is history. 'The Heatles,' as they were colloquially known, went on to reach four straight finals with the Miami Heat, winning two out of them.
Did the NBA miss out on an iconic pairing between LeBron and Derrick Rose?
LeBron James and the Cavs knocked out the Bulls in the 2010 Playoffs first round. However, 24-year-old LeBron found a liking towards the way Derrick Rose played his game. Rose had won the Rookie of the Year award in the previous season, further elevating his talents. 
ADVERTISEMENT
Article continues below this ad
Rose won the MVP award the same season LeBron and Wade joined the Heat. It might have been an extremely fabulous pairing if the duo (excluding Chris Bosh) had joined the Bulls. Derrick Rose, along with Wade and James, would have had a different career than what he has endured so far. 
However, LeBron, and Wade had clear intentions about playing with Derrick Rose. His playing style was different from that of Chris Bosh. Rose needed the ball in his hands to dominate, just like the other two. "So you're already talking two guys who are ball-dominant. And then you have a young up-and-coming star in the league who is ball-dominant," Wade explained. "At that time, I don't think it would've worked out for us.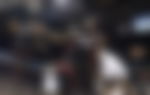 ADVERTISEMENT
Article continues below this ad
"We took our two ball-dominant selves away from having three guys as ball-dominant. So instead of it being me, LeBron and Derrick Rose, it's going to be a tough one. So we decided to pick what we thought was better from a basketball standpoint."
We can't complain against Wade's ideas. He understood the game better than most of his on-court opponents, which helped him scale massive heights. After re-joining the Heat, Wade cemented his place as a Heat legend, while LeBron finally got his hands on the Larry O'Brien trophy for the first time. Destiny took them to the sunny city of Miami. The trio didn't fail to perform and revolutionized the league with their extraordinary chemistry. 
Enjoyed reading this article? Download our exclusive app to get 24x7 coverage, latest memes and social media banter. Click here to download.