CJ McCollum Declares Top 5 Most Unstoppable NBA Moves of All Time
Published 03/27/2020, 2:49 AM EDT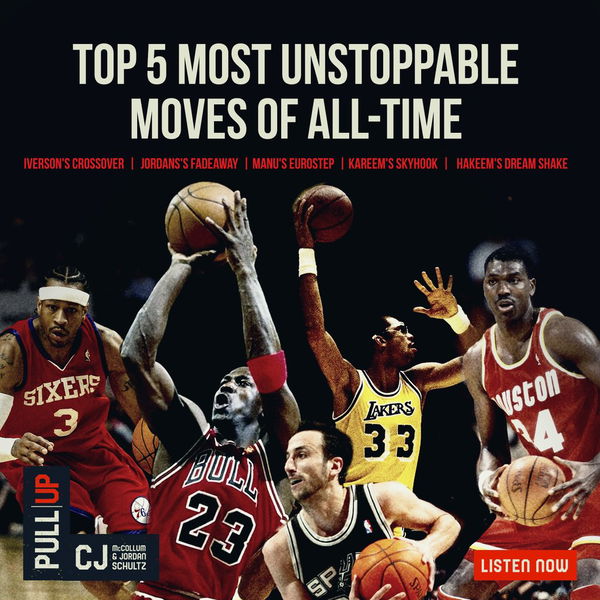 ---
---
In his recent podcast, CJ McCollum and Jordan Schultz rated Top 5 most unstoppable moves of all time in NBA. Safe to say, the list by CJ and Jordan is pretty solid as it contains all the top plays imaginable except few.
ADVERTISEMENT
Article continues below this ad
CJ mentioned in his 'Pull Up' podcast how these moves by players, revolutionize the game. He mentioned that the list is no particular order.
Allen Iverson deadly crossover obviously made the list. CJ said, "as a guard, he did change the game with that crossover". After this, he stated the classic Michael Jordan 'fade away'.
ADVERTISEMENT
Article continues below this ad
For CJ, Kareem Abdul Jabbar 'skyhook' obviously made the list. He reminded how Kareem inspired Magic Johnson to do 'drophook' during his rookie year finals when he started as the center.
To everyone's surprise, McCollum included Manu Ginóbili 'euro step' in the list. Former Spurs' star eurostep revolutionized the game because nobody had done it before, according to CJ. The last addition to this list was Hakeem Olajuwon's 'Dream shake'.
NBA and other unstoppable moves
Further, on the podcast, Schultz asked CJ about Larry Bird moves on where he ranks them? To which Portland star replied, "he was just a hooper".
Schultz then asked about Magic 'no-look', whether it's a play or patent move? To which McColumn replied, "some players all though they revolutionize and change the game – they didn't just do it the one way. Like, Bird did a little bit of everything, he got buckets, he was cocky, he was confident, he made no-look passes, he did 'jump hooks' and fadeaways".
Earlier in the podcast, Jordan did mention about Dirk Nowitzki, one-legged shot. But CJ forgot to include that shot in his list. Schultz also mentioned the James Harden step back, probably the most dangerous offensive tool of recent times.
ADVERTISEMENT
Article continues below this ad
Not to forget, CJ and Jordan both snubbed the Tim Duncan's legendary 'bank shot'. When CJ asked which moves did we forget? People on Twitter were quick to remind him of both Tim Duncan and Dirks' legendary moves.
Watch This Story
ADVERTISEMENT
Article continues below this ad
Later in the podcast, they both discussed about the 2020 Summer Olympics in Tokyo which has officially been postponed and how could it affect the 2021 NBA season. They also talked about whether Wilt Chamberlain would survive in today's NBA and Terry Bradshaw's choice words for Tom Brady.