"Come from Pain": Derrick Rose Opens Up on Being NBA's Youngest MVP
Published 10/31/2020, 1:00 PM EDT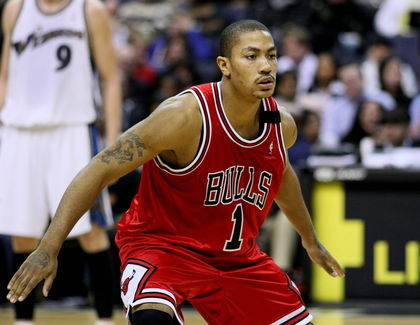 ---
---
It now appears that the Chicago Bulls had reached their doomsday in 1998 when their front-office dismantled the star team. Perhaps their best business move after signing Michael Jordan (1984) came in 2008 when they picked Derrick Rose as the overall #1. 
ADVERTISEMENT
Article continues below this ad
Thanks to the talent and hard work of Pooh, the Chicago Bulls finally came back in the playoff conversations. With him and Jimmy Butler, the Bulls qualified for back-to-back postseasons after a very long drought. So how did Derrick feel about his newly found success back in those early days of his career?
ADVERTISEMENT
Article continues below this ad
Derrick Rose and his succinctly successful years with the Bulls
Derrick has a very strong layup game. He is a perennial power from inside of the paint. The 6'2" player is very creative in his approach and does not fear contact. In a recent podcast interview, he revealed the secret behind his dominance in the layup.
"Growing up, I used to always play older guys. Whenever I used to go to the court, I used to play through fouls because… there was no such thing as a foul. So you had to play through contact. It could be for game point, money on the line… you know you got to get fouled, so you got to play through it. When I was in 4th and 5th, it was kind of hard because I was small, but in 6th, I was big."
The man became the youngest MVP in the league's history at the age of 22. He reminisced about those days when he detailed, "It was surreal to actually be so young and like to say it, or predicted before it happens. It's kind of crazy. But at the same time, it showed me that how the tongue is powerful… But my voice was like, if I didn't get injured, like it's no way over to scratch the surface of who I am right now.
"So like, it's dependent on all your perspective, and how you look at it. Like that's the biggest question I ever had. And I'm happy that it came from pain. I felt every second of it. Like I wouldn't want it any other way." 
ADVERTISEMENT
Article continues below this ad
His career was nothing short of a roller-coaster ride
The Englewood born NBA star enjoyed immense success in his initial years in the league. His rookie year average of 16.8 points, 3.9 rebounds, and 6.3 assists already got him the marquee status. That performance also won him the 2009 NBA Rookie of the Year award. Later, he had his career-best season in 2010-11 when he averaged 25 ppg, 7.7 assists, and 1 steal per game.
However, his shine took an unfortunate hit when he tore his ACL in the left knee during a 2012 playoff match against the 76ers. The injury forced him to miss the entire 2012-13 season, and the old Derrick never returned. His perimeter shooting always remained his weakness. In last season with the Pistons, he averaged 18.1 points at just 30.6% shooting from downtown. 
ADVERTISEMENT
Article continues below this ad
He is one great player and one can hope to see even better performances before he finally retires.