"Could I Get An Autograph?": When Karl Malone Hilariously Pulled A Prank on Anthony Davis
Published 07/06/2020, 6:53 AM EDT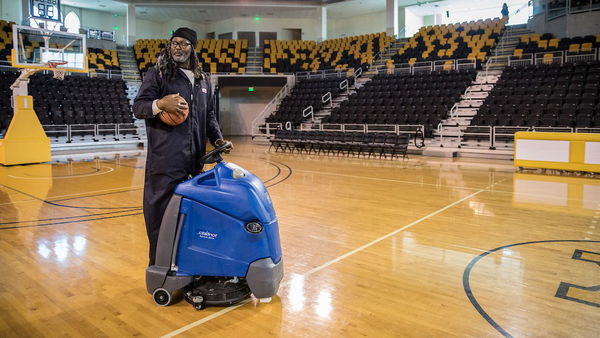 Karl Malone was a real baller in his heyday. The Utah Jazz legend never took a game for granted and fueled his maximum capacity when he walked out on the court. Off-the-court, Malone carried a light personality, one who jokes around, creating a humor circle around him. Back in 2018, Anthony Davis fell prey to one of the Mailman's hilarious pranks. 
ADVERTISEMENT
Article continues below this ad
As we all know, AD wasn't a Laker until he signed with them in 2019. Thus, Davis who was with the Pelicans at that time, was called in for a promotional shoot, arranged by Red Bull. The big man arrived at the court, but little did he know that he was up against a nuisance in the form of a Hall of Famer. 
As per the script, Karl Malone had to be dressed up as a maintenance worker and he was given a name as well! Just for the sake of the prank, Karl Malone turned into a janitor. He even got a fictional name of "Sam the maintenance man."
ADVERTISEMENT
Article continues below this ad
Karl Malone effortlessly gelled into character to prank Anthony Davis 
As the introductory shots showcase Malone getting into character, one can wonder if Malone would have made it big if he had entered the Hollywood instead of the NBA. The 1992 'Dream Team' member smoothly got into character and tuned himself before AD entered the arena. 
As the film crew attempts to shoot a video of Davis is a locker room, Malone aka Sam interrupts and gives his two cents on the Eurostep, a move which was not new to Anthony Davis. The crew then shifts to the court to perform their filming duties. But Malone just welcomes himself to obstruct their plans.
Malone was completely unrecognizable thanks to the extraordinary piece of work by the make-up team. As AD utters a few words in front of the camera, Malone barges in with a ladder, which doesn't sit well with the Pelicans star.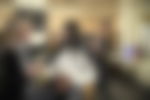 ADVERTISEMENT
Article continues below this ad
As the crew further indulged in shooting, Malone acts as a strict maintenance worker and asks the crew to pack up and leave. This further aggravated Anthony Davis who summons his security and asks him to get rid of Sam the maintenance man. 
By causing a few more hindrances, Malone decides its time and walks up to AD. The 14x All-Star acts like he barely recognizes him. "That's Anthony Davis," Malone says in a startled voice. "Could I get an autograph? Could you sign it for me? To Karl Malone," the Jazz legend says, upon which AD realizes that he's been tricked!
ADVERTISEMENT
Article continues below this ad
Anthony Davis breaks out into laughter and then shares a warm hug with Karl Malone. Subsequently, the two-time MVP describes his brief acting experience. It is indeed an amazing prank, one you shouldn't miss if you're an NBA fan!