Mavs' Star Luka Doncic Becomes the Youngest Player to Join NBA Legends in the Playoffs Record
Published 08/23/2020, 11:34 PM EDT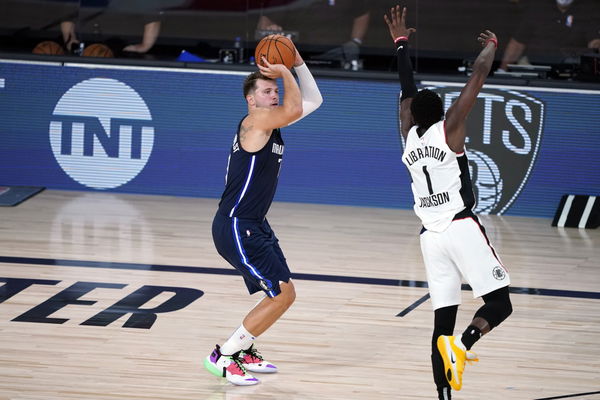 ---
---
Game 4 of the NBA Playoffs 2020 between LA Clippers and the Dallas Mavericks was a barn burner. The Mavs were playing without their second-highest scorer Kristaps Porzingis and were trailing 1-2 before the game. All they had was Luka Doncic. Nobody would have guessed they might come out as the ultimate winners.
ADVERTISEMENT
Article continues below this ad
The Clippers were in lead since the beginning of the game. Just half-time into the 2nd quarter, the Mavs were a huge 21 points behind, standing at 33-54. But things changed once the Mavs turned the tables and took a lead six minutes into the third quarter. At 121-121, Kawhi Leonard tried for a buzzer-beater pull-up jumper but failed to connect. The game went into OT and as it ended, all we could hear was "Luka! Luka! Luka!"
Have the Dallas Mavericks found their Michael Jordan in Luka Doncic?
ADVERTISEMENT
Article continues below this ad
It will be too soon to make one such claim, but the way this Slovenian is playing reflects nothing short of greatness. Just imagine a guy who was hobbling towards the locker room fewer than two days ago. The man was questionable to even show-up in the game, let alone play for forty-six (in capitals) long minutes. 
Luka Doncic has been making records in almost every game that he played in the bubble. But in game 4 against the Clippers, he overcame every odd to create history. Have a look at his achievements under severe constraints-
Luka Doncic with an all-time performance.

– Hurt ankle
– No Porzingis
– 21-point deficit
– 43 points
– 17 rebounds
– 13 assists
– Walk-off game winner
– 3rd player ever with 40/15/10 playoff game
– Tied 2nd most points in a playoff triple-double

He's only 21. pic.twitter.com/OdTSE4hgyW

— StatMuse (@statmuse) August 23, 2020
He has now joined the likes of legends, Charles Barkley and Oscar Robertson as the only NBA players to have ever scored a 40-15-10 in a playoff game. If this does not already speak volumes about Luka's greatness, consider the following stat-
Players to score 40+ in a playoff game and win it with a buzzer-beater (per @bball_ref):
Michael Jordan
LeBron James
Kawhi Leonard
Damian Lillard
And now Luka Doncic.

— Tim MacMahon (@espn_macmahon) August 23, 2020
ADVERTISEMENT
Article continues below this ad
He is surely establishing himself as a clutch player.
Watch This Story
The last few minutes of absolute thrill in game 4
ADVERTISEMENT
Article continues below this ad
For the Clippers, Marcus Morris shot a wonder as he converted a three-pointer with just 9 seconds remaining. This gave the Clippers a crucial one-point lead 133-132. But just six seconds later, a calculated pass from Dorian Finney-Smith straight to an open Luka Doncic turned into a buzzer-beater three and that's how it ended.
Trey Burke added 25 points, and Tim Hardaway got 21. Both Seth Curry and Boban Marjanovic again played really well, showing that the Mavs are more than their star duo. Kawhi Leonard and Lou Williams built a good base for game 4, but they lost it in the second half. This series is getting better and better. They will play the next game on August 25. Let's see who takes a lead!