Dallas Mavericks Star Luka Doncic Publicly Admits That He is Not in His "Best Shape"
Published 12/15/2020, 7:00 AM EST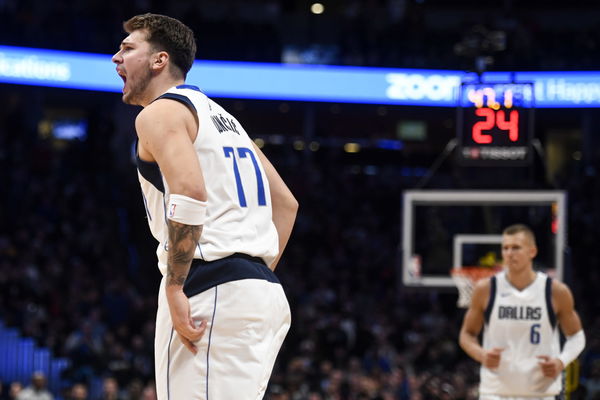 ---
---
Dwight Howard, LeBron James, Blake Griffin, and Andre Iguodala – the league has many players that boast a herculean physique. While this is good for them, it cannot be generalized that a bulky body is an eligibility criterion to taste NBA success. Who better than Dallas Mavericks' Luka Doncic to set this example?
ADVERTISEMENT
Article continues below this ad
Luka is a 6'7" 230 lbs athlete who looks like a guy-next-door whenever he dons a suit. He is more skills, less power, a gallant shooter, and entirely dapper. Recently, he was finally on the court after a three-month gap to play in the preseason for the Mavs. 
ADVERTISEMENT
Article continues below this ad
Fans noticed something wrong with the latest version of Luka Doncic
In an interview, sports journalist Brad Townsend asked Luka Doncic a question about Twitter users raising doubts about his fitness. To this, Luka very comfortably and honestly answered, "I mean there's people on Twitter say every stuff. But it's true, I'm not in my best shape. I will get there for sure, but you know I've never been a muscular guy. So, what can I say?"
He clearly accepted that he's not blessed with a bodybuilder's physique. All he adheres to are his extraordinary skills, the basketball IQ, and sheer hard work to get past many biggies. Having said that, there have been players in NBA who came in looking scrawny and then turned into real beasts. Consider the case of Giannis Antetokounmpo, who is the perfect example of an before and after transformation. His lean physique is worth worshipping for his fans, and one can only wonder if Luka would match that five years down-the-line.
The Dallas Mavericks are looking dangerous
ADVERTISEMENT
Article continues below this ad
The Mavericks started their preseason campaign against the Milwaukee Bucks. They won both the games quite comfortably, with almost everyone on the card performing well. Giannis's double-double in both the games could not stop the Mavs from taking the victory. In the second game, Josh Richardson gave an all-round performance by scoring 23 points, perfectly backing Luka's efforts with his 27-point addition to win the game. 
The Slovenian is touted as a potential MVP in this upcoming season. Considering that he will see tough competition from Kevin Durant, Stephen Curry, Anthony Davis, and others, it is important for Luka to get that 100% fitness level.
Would you like Luka to put on some muscle? 
ADVERTISEMENT
Article continues below this ad
Read also – 'That M**** in Dallas': NBA Scout Predicts Luka Doncic for MVP Ahead of LeBron James