"Look at This Man. Hanging out with Luka": Philadelphia 76ers Star Rekindles Hilarious Bromance with Boban Marjanovic
Published 07/13/2020, 10:36 AM EDT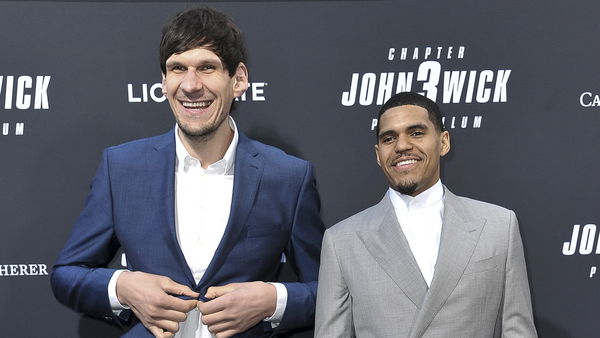 In the 2019 Off-Season, one of the biggest bromances in the NBA took a hit. The Philadelphia 76ers did not resign Boban Marjanovic and then he made the move to the Dallas Mavericks, which separated him from his best friend, Tobias Harris. The duo has been friends since 2016 when they played together for the Detroit Pistons.
At Dallas, Marjanovic has found a fellow Serbian in Luka Doncic. Harris jokingly said that Marjanovic has replaced him with Doncic now.
ADVERTISEMENT
Article continues below this ad
But the Bobi and Tobi duo seems to have been reunited at Disney World.
Did Philadelphia 76ers break NBA's biggest bromance right now?
Harris has been looking forward to seeing his friend for a while now. While speaking to Ernie Johnson on NBA on TNT, he said, "I know Boban will be trying to communicate with me and trying to link up. I'm going to have security to make sure he's not able to talk to me." 
The Bobi and Tobi duo began back during their time at the Pistons. Then in 2018, they were traded together to the Clippers in the huge Blake Griffin trade. They had just spent a year in Los Angeles before they got shipped out, together, to the 76ers this time. Then in the 2019 Off-Season, the duo was separated after the 76ers didn't resign Marjanovic.
The day Marjanovic signed with the Mavericks, the duo had an emotional exchange on Twitter.
ADVERTISEMENT
Article continues below this ad
ADVERTISEMENT
Article continues below this ad
Back in December, Harris told ESPN, "Boban knows he's nothing without me, and I'm nothing without him. It was a little weird (top play without him). That's my bro, so it was always good when we were together to play together, and obviously the friendship off the court."
The duo will face each other on the court when the 76ers take on the Mavs in their third scrimmage game on July 28. They had two encounters this season, and both were easy victories for the Mavs. The Sixers have been unimpressive this season and are only the 5th seed as of now. They will be hoping to make the most out of these eight games and have a better run in the playoffs this year.