"Dangerous New Norm" – Chris Bosh Calls Former Teammate LeBron James the GOAT
Published 11/21/2020, 6:30 AM EST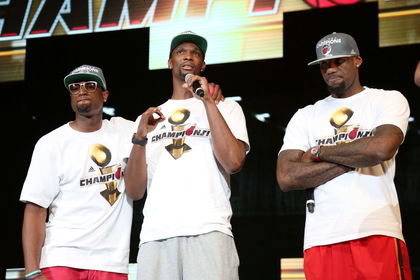 ---
---
Chris Bosh had one of the greatest careers in the NBA. He played in the league for 14 years, where he won two NBA Championships and was a multiple-time All-Star.
ADVERTISEMENT
Article continues below this ad
The highlight of Bosh's career came in 2010. He left the Toronto Raptors after seven years to join LeBron James and Dwyane Wade to form the 'Big Three'. The three friends made the Miami Heat a super team, reaching the NBA Finals for four consecutive years from 2011 to 2014.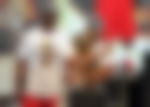 Off the court, Bosh and James are very close friends. They had been friends entering the league, and that friendship grew stronger as they won championships together.
ADVERTISEMENT
Article continues below this ad
Chris Bosh went on the All The Smoke Podcast recently. When asked about the greatness of LeBron James, Bosh didn't shy away from praising his friend. He mentioned that James' longevity has lifted the bar for greatness.
Chris Bosh thinks LeBron is the GOAT
ADVERTISEMENT
Article continues below this ad
Bosh also believes that the criteria for being the Greatest of All Time has changed, and now 'Bron is the GOAT. He said, "We all have our dreams of how things are going to go and how your career is going to be played out. To actually watch him do it, I think we're not going to appreciate it until he's done playing." 
Bosh reminisced about his own career, and how good it was. He did however note that he had his fair share of playoff failures and said, "Come on, man. Even looking at my career – great career, very long. But as far as like playoffs are concerned, I only went to the playoffs twice before I went to Miami for that four-year stretch… Those were the only playoff games I played."
Bosh noted that LeBron is a consistent playoff mainstay and said, "He's consistently played in the playoffs. Not just 'oh, take your lumps and go home. Have a five-month summer'…I think he only missed the playoffs twice… Just being able to play and hoop at a high level for so long and still getting it done is amazing."
ADVERTISEMENT
Article continues below this ad
Chris Bosh and LeBron James played together for four years in Miami. They won two NBA Championships and reached four finals during their time. James left Miami in 2014 to return to Cleveland, whereas Bosh ended his career in Miami in 2017. The Miami Heat even retired Bosh's #1 jersey.