Danny Green Establishes What The Philadelphia 76ers Need To Do In Order To Win
Published 12/09/2020, 3:30 PM EST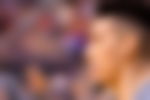 ---
---
The 2019-20 NBA campaign did not end as one had hoped for the Philadelphia 76ers. After getting a duo like Ben Simmons and Joel Embiid, the Sixers were blindly listed as one of the top contenders. However, that was just on paper. When it actually came to it, Simmons and Joel just did not fit well together. But it looks like Danny Green is ready to bring back a winning culture in the Sixers.
ADVERTISEMENT
Article continues below this ad
The Sixers did not even make it past the first round of the playoffs, thanks to the Boston Celtics. This resulted in a major overhaul including the coach, roster, and front office. What they lacked most was a shooter. Ben Simmons, in particular, has some major hesitation when it comes to taking three's. But it looks like Danny Green is here to do exactly that.
The veteran guard has more than a decade's experience in the league. Not only has he won three titles with three different teams, but his three-point percentage is also a whopping 40%. That's exactly what Philadelphia needs.
ADVERTISEMENT
Article continues below this ad
He has played alongside many of the league's bigs like Tim Duncan, Kawhi Leonard, LeBron James, Tony Parker, and so on. So, coach Doc Rivers won't find it difficult at all to fit him in alongside the franchise's dynamic duo.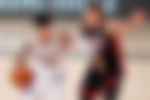 Danny Green's expectations from the Philadelphia 76ers
As this three-time champion makes his way to a team that hasn't won a title since 1983, he has some goals set and expectations in mind. On 'Inside the Green Room', Green said, "The scouting report for us is we want to speed up and play fast. That's one of the goals that Doc has for us. He wants us to play fast but also wants to be the best defensive teams in the league."
"Doc wants us to be one of the top five defensive teams, and that's our expectations. Don't get it twisted. We want to win, but we can't fall short of anything less than being in the eastern conference finals. But the goal is to win and be the last team standing, and we have those expectations from ourselves. We believe we can do it!". 
ADVERTISEMENT
Article continues below this ad
He further explained the grave consequences of falling short. "It's going to be a bust or bad season. It's probably going to break it up, trades. It always happens."
Although, he hopes that the players don't lose the essence of enjoying the game as well. It won't be easy at all. With the competition they have in front of them, the Sixers would have a lot of pressure on them. Hopefully, Danny Green will help unburden that from Embiid and Simmons' shoulders.
ADVERTISEMENT
Article continues below this ad