DeMarcus Cousins Responds to Ronnie 2K For Calling Him a "D**K" on Live Stream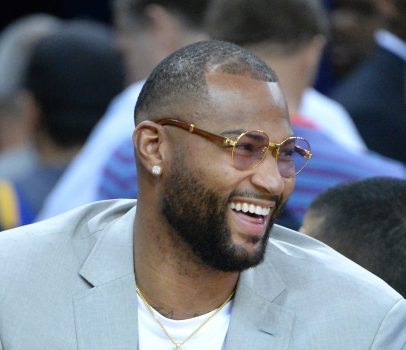 Ronnie Singh, the public face of NBA 2k, made profane comments on DeMarcus Cousins on Tuesday.
The words slipped out of his mouth during a live stream while he was discussing the players-only NBA 2K tournament. Ronnie Singh, more commonly known as Ronnie 2K, said Cousins is "such a d–k" during the live stream.
"Cousins is such a d–k. I could see him just being like, 'I don't wanna f–kin' do this.' Not to mention his matchup would be annoyed too," Ronnie2K said.
Ronnie2K forgets he's on live and calls Boogie Cousins a "d!ck" 😬

(🎥 @nba2k20myteamig) pic.twitter.com/hw6KdZuXyP

— NBA Central (@TheNBACentral) March 31, 2020
Cousins soon responded soon after, simply tweeting a gif directed towards Ronnie 2K.
@Ronnie2K pic.twitter.com/DQOrfyEigN

— DeMarcus Cousins (@boogiecousins) April 1, 2020
It wasn't long before Ronnie 2K realized his mistake and apologized to Cousins calling his slip of tongue a "moment of work stress".
Bro in a moment of work stress, I said something super dumb that wasn't at all how I feel about you. My bad & I sincerely apologize. Let's have some fun starting this weekend, bring the action and see if you can be crowned champ

— Ronnie 2K 2K20 (@Ronnie2K) April 1, 2020
DeMarcus Cousins will go up against Andre Drummond in the first round of the NBA 2K tournament
The NBA is set to host a 2K tournament involving 16 of its players over 10 days. The event, starting on Friday, will broadcast on ESPN. Among the star attractions in the event is Brooklyn Nets' star Kevin Durant.
Further, fans can expect to see other favorites, including big men DeMarcus Cousins and Andre Drummond, and sophomore Trae Young. The 16 players were drawn up against each other as per their NBA 2K ratings.
Durant, the highest-rated player, will face Derrick Jones, while Young faces Harrison Barnes. Meanwhile, Cousins will compete against fellow center Andre Drummond.
.@NBA2K's "Players-Only" tournament will air starting this Friday on @ESPN. Here are the brackets – who do you think is gonna take it all? pic.twitter.com/51ltOfjeqR

— The Boardroom (@boardroom) March 31, 2020
As the league remains inactive, the 2K tournament will be something to cheer for the fans. Further, involving a superstar like Durant certainly makes the event a crowd-puller.