Denver Nuggets' Nikola Jokic Has a Hilarious Response to What He'd Get Coach Mike Malone for His Birthday
Published 09/16/2020, 5:25 PM EDT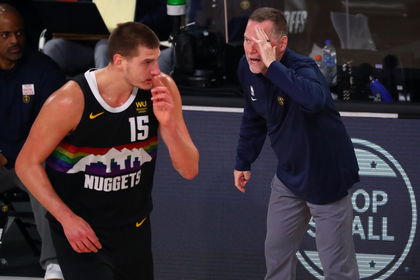 ---
---
Nikola Jokic and the Denver Nuggets have pulled off back-to-back comebacks from 3-1 down. Most of the credit for this goes to head coach Mike Malone, who has adjusted to weapons thrown at him against both Utah and now the Clippers. While the mighty Lakers await them, there is a genuine belief in Denver's abilities to upset them.
ADVERTISEMENT
Article continues below this ad
The star center for the Nuggets, Nikola Jokic, spoke to the media after the game and revealed that the game was also a birthday present for head coach Mike Malone.
ADVERTISEMENT
Article continues below this ad
"No no, I gave him the Western Conference Finals. Before the game, I told him coach I have a really good present. I'm gonna get you home or I'm gonna get you to the Western Conference Finals."
So, is it win-win situation for Malone? Either he gets a Conference finals trophy or he'd get to go home and be with his family. Malone is among the most vocal critic of NBA's rule to not allow a coach to bring family members.
Nikola Jokic and his chances of upsetting the LA Lakers
Jokic has dominated in the Playoffs. He came into the bubble in great shape but was prone to the occasional slow start. However, he has taken up the responsibility of being the consistent scorer that Denver can rely on. Jamal Murray is prone to being streaky, and Michael Porter Jr. is too young. Jokic is the only one that is a viable scoring threat and also possibly the best distributor on the team.
ADVERTISEMENT
Article continues below this ad
However, the Lakers aren't built like the Clippers. They have a lot of size to rough up Jokic. Anthony Davis is one of the best defenders in the league, and he won't allow Jokic to have triple-doubles in three quarters. However, his movement and passing could be the kryptonite for this Lakers team.
The issue Denver has is that the Lakers have optimum matchups in each situation. Jokic doesn't have the defensive prowess to stop AD consistently. LeBron James may look to match up with either Jamal Murray or Michael Porter Jr., with either option being a possible defensive liability.
ADVERTISEMENT
Article continues below this ad
However, this Denver team under the coaching of Mike Malone has proven one thing. One can never count them out. With the versatility that Jokic is showing, along with the aggressive scoring of the rest of the Denver team, the Lakers may have a very challenging series ahead of them.