Denver Nuggets React to NBA Suspending Its Season
Published 03/12/2020, 5:08 AM EDT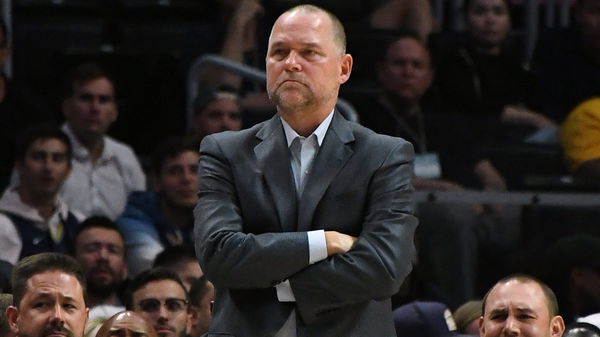 ---
---
Rudy Gobert was reported to be tested positive for the coronavirus. In a very decisive manner, the league announced it would suspend all games until further notice. The announcement came in the third quarter of the Denver Nuggets against the Mavs. Both the teams were unaware of what was happening in the league and were just playing hard on the court.
ADVERTISEMENT
Article continues below this ad
The news was so fresh and shocking that head coach Mike Malone didn't even allow himself to process it before the game ended. The Nuggets lost the game 97-113.
See More | NBA Suspends its Season After Rudy Gobert Tests Positive for Coronavirus
ADVERTISEMENT
Article continues below this ad
Denver Nuggets react to NBA's Decision
Nuggets trainer Dan Shimensky informed Malone of the league's decision. The team immediately started to adjust their travel plans as they are headed back to Denver instead of San Antonio. Malone said he has been around the league a long time and has never seen a situation like this before. These are the kind of things you watch in movies.
Malone was in complete support of League's decision. He went on to say that everyone in the locker room supported this decision. Even though their player wasn't affected, it has affected the league internally and they have to do right by it.
Nuggets veteran Paul Millsap shares the same thoughts as those of Malone. He describes this as a scary situation. This is a time where everyone is in shock and they don't know what to think. It is a smart move by the NBA to do this. It gives players time to process the news and spend some time with their families.
The effects of the NBA's decision are still unknown. Will the regular season be postponed? Or would the league directly start from the playoffs? Will we have Finals in July or August? Or would the league cancel the whole season? All this remains to be seen.
ADVERTISEMENT
Article continues below this ad
ADVERTISEMENT
Article continues below this ad