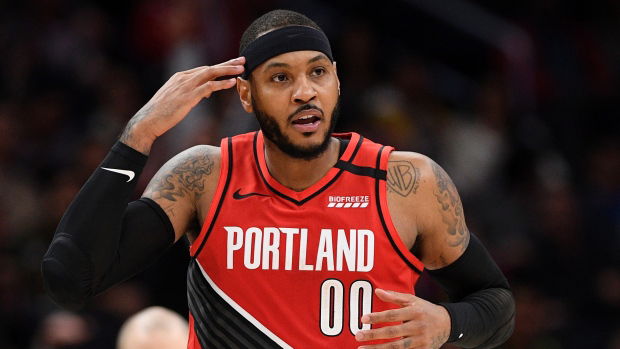 Portland Trail Blazers star Carmelo Anthony expressed his discontent on American President Donald Trump's declaration to send military on those protesting against the death of George Floyd. He took to Instagram to say Trump has declared war on the people who have been protesting.
"So, Trump has declared war on the American people who are protesting against the killing of a black man. And still, they haven't arrested the men who killed George Floyd," the Instagram post read.
It has been a week since Floyd's death and there have been nation-wide protests in US. The medical examiner of Floyd declared that he died due to lack of oxygen, calling it a homicide.
"America is being destroyed and burned down," Anthony's post further read. "The national guard is at war with civilians. All this because they refuse to even charge officers who killed a black man in front of the whole world! They would rather lose everything than give a black man justice! Let that sink in."
Anthony, a 17-year NBA veteran, joined Portland Trail Blazers last year. Previously, he has played most of his basketball for Denver Nuggets and New York Knicks.
Carmelo Anthony joined a list of NBA stars to raise voice against injustice
Since the death of George Floyd, many in the NBA community have raised their voice over the issue of racial discrimination. Recently, Los Angeles Lakers legend Magic Johnson said he felt the need to warn his sons about being black in America. In his appearance on CNN, he was also happy to see people of all races participating in the protests.
Why Doesn't America Love US!!!!!????TOO. 😭😭🤦🏾‍♂️🤦🏾‍♂️ #HeadHighandStayStrong🙏🏾💪🏾 #WeAllWeGot✊🏾👑

— LeBron James (@KingJames) May 31, 2020
Previously, Boston Celtics' Jaylen Brown led a protest driving for 15 hours from Boston to Atlanta. Los Angeles Lakers superstar LeBron James has constantly been speaking about the issue on social media. Also, NBA legend Michael Jordan released a statement calling for unified action.
Another former NBA star Stephen Jackson, a friend of George Floyd, has deeply lamented his friend's death. He took part in a rally in remembrance of his friend. Minnesota Timberwolves' Karl-Anthony Towns, who recently lost his mother of coronavirus, also took part in the rally.