NBA 2K21: Top Rated Players in the Game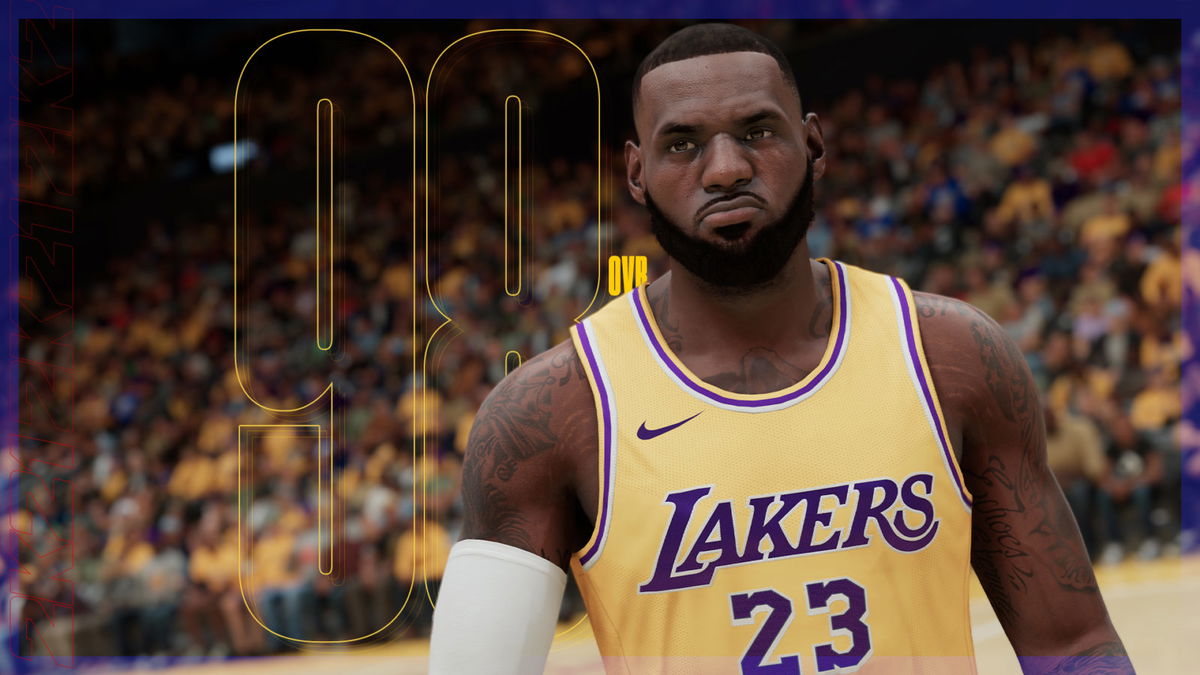 As the countdown begins for the next game, 2K has released the player ratings for the NBA 2K21 next-gen experience. Making a one overall jump, the highest-rated player on the upcoming game is the Los Angeles Lakers star, LeBron James.
NBA 2K21: Rankings 1-3
The 35-year-old leads the ratings with a monstrous 98 rating. After being the second-highest rated player on last year's game, an inspired playoff run and the Finals MVP trophy have pushed LeBron to the top. The jerseys might look questionable, but there are no questions raised on the rating, and King James deserves it fully after a solid campaign.
👑 Still King 👑

The No. 1 ranked player in NBA 2K21 is @KingJames at 98 OVR

Agree? #2KRatings pic.twitter.com/yMH7Maxdav

— NBA 2K21 (@NBA2K) October 22, 2020
ALSO READ – Did LeBron James Deserve to Win the 2013 Defensive Player of the Year Award?
Bucks star Giannis Antetokounmpo retains his 97 overall rating. He had another impressive regular season, winning his second consecutive MVP along with the DPOY trophy. But failure to replicate this into the playoffs meant that an increase was off the cards.
Two-time MVP Giannis is a 97 OVR 🦌

Thoughts? #2KRatings pic.twitter.com/hfNvd2edlm

— NBA 2K21 (@NBA2K) October 22, 2020
Similar to last year's performance, James Harden finished as the top scorer in the league. But another poor playoff performance from the Rockets star means he doesn't go beyond a 96 overall.
Harden enters Next Gen with a 96 OVR

Agree? #2KRatings pic.twitter.com/7xsyJ9bt0k

— NBA 2K21 (@NBA2K) October 22, 2020
Ratings 4-6
Lakers star Anything Davis gets a mini bump, going from 94 to 95 overall. He had a stellar season at LA, winning the ring and finishing second in the DPOY voting. Lakers fans would certainly argue he deserves a 96 at least.
Returning from injury after a year, Kevin Durant's rating takes a hit, going from 96 to 95. This is only due to him not playing, and there's no doubt this will increase once he is back to his best.
Kyrie and KD comin back strong #2KRatings pic.twitter.com/9CL6KuzxwH

— NBA 2K21 (@NBA2K) October 22, 2020
Another star returning from an injury ridden season, Warriors' Stephen Curry gets a 95 rating again. He just played five games last season, so didn't have a chance to boost his ratings.
Steph and Klay are still the best shooters in the game #2KRatings pic.twitter.com/W1aH2hiq3C

— NBA 2K21 (@NBA2K) October 22, 2020
Rankings 7-9
This comes as a surprise, but cover star Damian Lillard has now been given a 95 rating as well. He had a good season, but putting him on par with Durant and Curry is outrageous.
2K21 cover star @Dame_Lillard earns a leap to 95 OVR this year #2KRatings pic.twitter.com/CrP4CYNXjh

— NBA 2K21 (@NBA2K) October 22, 2020
Continuing with the overrated trend, we have Luka Doncic with a 94 rating. The 21-year-old had a fantastic sophomore season followed by impressive playoff displays. But a 94 still seems too high for him.
Luka is a 94 OVR headed into Next Gen #2KRatings pic.twitter.com/ZldM7Vm5oW

— NBA 2K21 (@NBA2K) October 22, 2020
Making a leap from 88 to 93, we have Heat star, Jimmy Butler. He led the team to the NBA Finals and had an incredible playoff run. But prior to that, his regular season wasn't so great, so this big jump doesn't feel right.
Jimmy earns a 93 OVR after his unbelievable playoff run

Accurate? #2KRatings pic.twitter.com/5kleVGlnsA

— NBA 2K21 (@NBA2K) October 22, 2020
ALSO READ – NBA 2K21 Introduces Exciting New Update Including a Kobe Bryant Tribute
Get notified about breaking news and watch highlights on the go; join the Arena on NBA Hoops