"Every Time We're Together": Lakers Head Coach Reveals How Team is Continuing to Honor Kobe Bryant
Published 09/15/2020, 7:05 AM EDT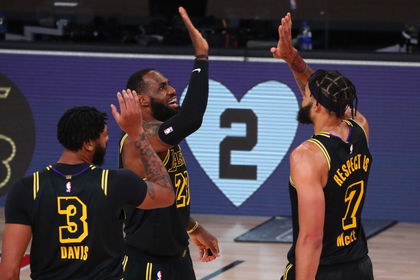 ---
---
The Los Angeles Lakers had a great start to their 2019-20 season. They finally had strong support in the name of Anthony Davis to help LeBron James. But the tragic news of the death of franchise legend Kobe Bryant left them broken. 
ADVERTISEMENT
Article continues below this ad
Before Kobe's passed away, the Lakers were 36-10 in the Western Conference. They even enjoyed a 10-game winning streak in the season before what felt like doomsday on January 26. To completely overcome such a devastating loss is impossible. Hence, the Lakers decided to turn that fateful event into something that could fuel them.
Los Angeles Lakers pay Kobe Bryant a tribute every time they play
ADVERTISEMENT
Article continues below this ad
The NBA organization, other sporting leagues, and fans all around the world tried everything they could to pay their respect to Kobe (24) and Gianna Bryant (2). But the Lakers being the one and the only team the Black Mamba ever played for had to ensure they did a little extra.
The head coach of the team came up with the idea to remember Kobe at least once every time they went out on the court. He made the point that the undying presence of Kobe in everyone's heart had to keep motivating his team to live the Mamba Mentality. 
Frank Vogel reiterated today that the Lakers think about Kobe all the time.

"Kobe is with us on our whole journey this year. We say 'Mamba on three' every day in practice, every time we're together, and we'll continue to try to represent what he stood for and honor his memory."

— Playoff Faigen (@hmfaigen) September 14, 2020
This is such a powerful way to motivate the team. It also honors the man who won five championships for the franchise and went down as one of the greatest players to have ever played the game.
Have a look at this clip where coach Frank Vogel announced and congratulated the team for converting 19-three pointers in game 5 against the Rockets.
LeBron James keeps the Black Mamba close to his heart
ADVERTISEMENT
Article continues below this ad
LeBron James was one of those players who was probably the most affected with the news of Kobe's demise. Several times, the media captured Bron shedding tears in the emotional moments when Kobe's name was mentioned. The Akron Hammer also did his bit to pay respect towards his idol by wearing a '24' band on his finger. It also has a white strip attached in honor of his daughter. 
ADVERTISEMENT
Article continues below this ad
On the eve of Kobe's 42nd birthday, the Lakers wore his Black Mamba jersey. They defeated the Blazers with a 135-115 win. Bron scored 30 points, 10 assists, and 6 rebounds in just 28 minutes of play that day. Such is the power that Kobe bestows upon his beloved team.