"Executive of the Year": Miami Heat Legend Lauds Pat Riley for Drafting Tyler Herro and Kendrick Nunn
Published 09/15/2020, 11:59 AM EDT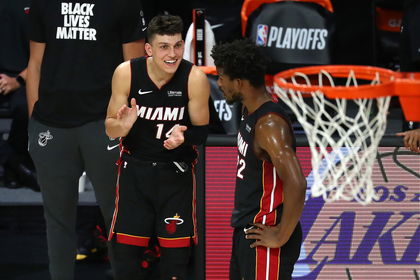 ---
---
The Miami Heat have had a splendid run in the Playoffs so far. Not only did they just beat the number one seed Milwaukee Bucks and advance to the Eastern Conference Finals, but have also lost only one game throughout the Playoffs. They are all set to face their 2012 rivals, the Boston Celtics, in the conference finals. Yes, they have Jimmy Butler in their roster, but there are two young players in the team who's drafting has played out really well for the Heat.
ADVERTISEMENT
Article continues below this ad
Tyler Herro and Kendrick Nunn, best decisions by Miami Heat?
Tyler Herro was the 13th overall pick in last year's draft. The Rookie is averaging 13.5 point and 4.1 rebounds. Even before the drafting took place, the shooting guard made quite an impression on the Boston Celtics. At the time, Celtics had hosted a workout for some NBA Draft prospects, and Tyler Herro had caught their attention.
ADVERTISEMENT
Article continues below this ad
Someone in the know just told me Tyler Herro "blew away" the Celtics in his workout this morning. Finished the workout having made 80 of 100 three point attempts. From all accounts, Herro seems to be picking up a LOT of positive buzz throughout the draft process

— Aaron Torres (@Aaron_Torres) June 4, 2019
On the other hand, they also have Kendrick Nunn. Nunn finished second in the Rookie of the Year voting this season. He instantly became the starting point guard for the Miami Heat, which is a huge deal for an undrafted rookie. Although he has hit a bit of a slump in the Playoffs, his potential is still not one to look down on.
Former Miami Heat player and All star, Dwyane Wade, also commented, "With drafting Tyler [Herro] at the pick that we had and then with going to get Kendrick Nunn, and understanding you got certain pieces that fit with those pieces. Executive of the Year definitely goes to [Heat president Pat] Riley." Thanking the Heat president for the decisions he has made for the Heat.
Dwyane Wade is proud of his former team's perseverance
The older players have also shown a lot of spark this season. While Duncan Robinson set a franchise record for the number of threes made in a season, Bam Adebayo will make his first appearance in the NBA All-Star game. "Congratulations to them, man, and all those guys for really going out and making something out of what people looked at from the outside as nothing," Wade said of the Heat.
ADVERTISEMENT
Article continues below this ad
While the Boston Celtics have just beaten the defending champions to get here, the Miami Heat have momentum on their side. They also have a talented roster that Celtics should be really threatened to play against. It won't be easy for the Celtics to avenge their 2012 defeat.
ADVERTISEMENT
Article continues below this ad