"F*** That Phil, We're Not Losing"- What Michael Jordan Said Before the Conference Finals in 1998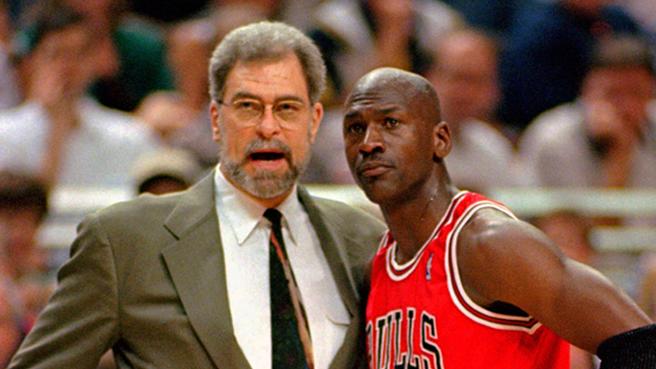 Former Chicago Bulls player Steve Kerr gave a little glimpse of what was going in the team's dressing room in the conference finals in 1998. With Michael Jordan leading them, it was a time when the Bulls were dominant as a unit.
Bulls had won the last two Championships and had won five titles in the last seven years. They were fighting in a very close contest for a pace in the Finals and attempt to achieve the second three-peat in eight years. They had Indiana Pacers in front of them in the Eastern Conference Finals.
Kerr had been a part of the Bulls side for the last five years. In a recent appearance on Lowe's podcast, Kerr, currently the coach of Golden State Warriors, talked about how the then coach Phil Jackson was trying to motivate the team prior to the Game 7.
"Phil Jackson was trying to get our minds right. He said the important thing in a game like this is to not fear losing. You embrace the idea that you could lose," he said.
Kerr said how Jordan didn't even let Jackson finish, assuring that they were not going to lose the game.
"Before he could even really get started, Michael just said, 'Nah, f*** that Phil. We're not losing this,'" Kerr added.
Losing Game 7 of the 1998 Eastern Conference Finals never crossed MJ's mind 🐐

(via @ZachLowe_NBA) pic.twitter.com/xTGyCLpD6D

— ESPN (@espn) April 23, 2020
Michael Jordan led Chicago Bulls to the sixth title in eight years
Bulls did go on to win the game, and then the finals, against Utah Jazz. Incredibly, the win was their sixth Championship in eight years- a testament to their dominance in that era. Jordan finished the season as the top scorer and Most Valuable Player (MVP). He was also the finals MVP for the sixth time in his career.
Steve Kerr, meanwhile, ended his five-year stay in Chicago after the season. He moved to San Antonio Spurs and won another title next year- making it four in a row. He then played a year for Portland Trail Blazers for a season in 2001 before returning to the Spurs. He won another title in his final season in the NBA as a player with the Spurs.
He is currently the coach of Golden State Warriors. Under him, the Warriors have made it to the NBA finals in each of the last five seasons, winning three of them.