Fans on Twitter Suggest Rockets Must Cut Harden Loose Following His Ignorant Acts
Published 12/07/2020, 5:00 AM EST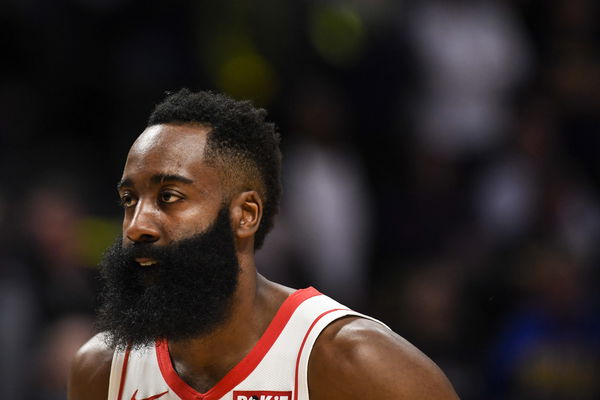 ---
---
James Harden has been under the spotlight for a month now. He first gained media attention by rejecting a 2-year $103 million extension with the Houston Rockets. Had he accepted that, he could have easily become the first NBA player to receive a $50 million+ amount for a season. But he least interested and not at all motivated to go that way.
ADVERTISEMENT
Article continues below this ad
Later, rumors suggested his interest in joining the Brooklyn Nets to build a killer trio. However, that remained an unfulfilled desire because the Nets did not make any active move to close the deal. Now, The Beard is back in the news for pulling shenanigans and doing some unpopular stuff least expected from a player of his stature.
Twitter did not spare James Harden for his surprising behavior
ADVERTISEMENT
Article continues below this ad
The Beard had distanced himself from the Rockets front office after the post-season. When Russell Westbrook left the Rockets and John Wall made his arrival, many believed this deal matched Harden's preference. Russ's departure made the small-ball line-up bite the dust, but it also opened greater avenues for a Harden dejected from the playoff defeat.
Still, Harden did not show up during the team practice and left the fans to lose their trust in the multiple-times NBA point leader. 
I feel for Silas, he is in a bad situation all around. Rocket brass should have hired the coach the star players wanted. Harden can now make a million excuses not to play or show up

— Nicky A (@AJRazim) December 7, 2020
Bad situation to step into for a nice guy. Guess it could be worse, could be an assistant coach to Irving and Durant.

— Macsdaddy (@Jayfirebird4) December 6, 2020
lol that's not how it works. You pay 200 million dollars for a player. You can do whatever you want with him. If there's a great trade package available, trade him. If not, let him mope around and take a financial hit. I'm sure there's duty stipulations in there.

— Edward Agadjanian (@TheNamesEdward) December 6, 2020
The Beard is playing cat and mouse with the Houston Rockets front office
Last week, a report suggested that the new Rockets coach Stephen Silas was very optimistic about Harden joining the practice on December 6. However, the 8-time NBA All-star missed the practice because of COVID protocols. Instead of serving time under quarantine by joining the venue early, The Beard was busy attending rapper Lil' Baby's birthday bash. 
ADVERTISEMENT
Article continues below this ad
Rockets coach Stephen Silas says James Harden did not attend the team's first practice today as Houston had hoped

Silas says that Harden is expected to participate in an individual workout later tonight

— Marc Stein (@TheSteinLine) December 6, 2020
The equation is not very simple for Harden. He still has two years left on his contract with the Rockets and is most likely to start the next season with them. With the entry of DeMarcus Cousins and Christian Wood, Harden has all the key pieces to drag them deeper into the post-season. So it will only harm him if he continues to take forward this unprofessional attitude. If things get on the Rockets' front office's nerves, they can still trade Harden even after the deadline to attract a big star to their squad.
ADVERTISEMENT
Article continues below this ad
Fans now hope Harden will respect coach Silas's approach to giving him freedom enough to come back to training at his comfort. The freshest reports suggest he is in touch with the management and has promised to report soon. But the question remains, will his attitude prove harmful for the franchise in the long run?