"Fingers Went Numb": Heat Star Bam Adebayo on his Game-Winning Block Against Celtics' Jayson Tatum
Published 09/19/2020, 9:31 AM EDT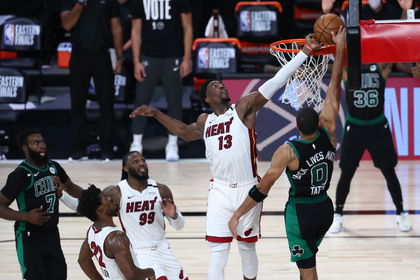 ---
---
Fans are still in wonder about Bam Adebayo's block on Jayson Tatum in Game 1. The 23-year-old made a game-saving rejection on Celtics' Jayson Tatum with just seconds left on the clock in overtime. This stellar block handed Miami Heat both the victory and the momentum in the series. Here it is below, in case you forgot how significant the moment was. 
ADVERTISEMENT
Article continues below this ad
ADVERTISEMENT
Article continues below this ad
After Bam made the block, he was equally received like a hero by Heat fans and the NBA community itself (barring C's fans, of course). Hall of Famer Magic Johnson even said that it is by far the best defensive play that he's ever witnessed in the Playoffs.
We're not sure if Magic had LBJ's 2016 Finals block in mind when posting the tweet, but Bam's rejection is right up there as one of the best. He's been receiving plenty of praises for his monstrous block, but what does Bam have to say about the game-defining moment he produced? 
Bam Adebayo reacts to his game-winning moment for the Miami Heat
With just 5.0 seconds on the game clock, Jayson Tatum was fired up and ready to dunk the ball. If he had done so, the game would have been tied and forced into a second overtime. However, Bam Adebayo came up big and demonstrated his dominance at the most vital moment.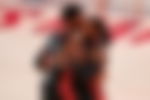 The Heat star sat down with ESPN's Rachel Nichols to discuss the aftermath of his huge block on Tatum. Bam made the rejection with his offhand, which makes it even more special. But what did it take for him to commit to the mighty move? 
"Two of my fingers actually went numb," Adebayo said. "It was like a big clap and two of my fingers went numb." Moreover, Bam reacted to Magic's praise and said: "It meant a lot, coming from Magic, obviously, and just acknowledging my play." 
ADVERTISEMENT
Article continues below this ad
But did Bam have any sense of fear if he would be postered by Tatum when he jumped up? "It's the Playoffs. We were already in overtime and you can clearly tell nobody wanted to go into the second overtime. So at that point, you just put a lot of effort," Adebayo mentioned. 
Furthermore, Bam mentioned the Miami Heat's saying in the bubble: "Sacrifice your body for your teammates," is the way they play their game. Well, they've seen tremendous success in the playoffs, and are currently 10-1. Sticking together as a unit at every moment has been the biggest strength for the Heat.
ADVERTISEMENT
Article continues below this ad
How far can they go with this momentum?